Acorn Stairlift Repair & Maintenance in Plymouth Meeting, Philadelphia, Willow Grove, West Chester, Doylestown, PA, Baltimore, MD, and Surrounding Areas
30+ Years of Stairlift Repair Experience – Call the Experts Today!

The specialists here at Stairlift Medics can provide expert repair service and maintenance for Acorn stairlifts. We have most Acorn stairlift parts in stock, so we can usually have your stairlift up and running the same day you contact us.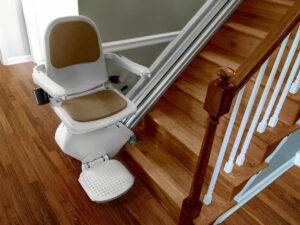 Acorn offers a variety of stairlifts, including straight stairlifts, curved stairlifts, and even outdoor stairlifts. Acorn stairlifts offer some of the best design, engineering, and safety features. However, most stairlifts require annual service to keep them running smoothly. Our technicians can often save you the expense of replacing an expensive part on your Acorn stairlift if we spot it in time, so make sure to call us first if you experience any problems. We also offer preventative maintenance to keep your Acorn stairlift in top shape.
Over the years businesses have to adapt to meet the challenges and the current environment they are working in.  Roughly ten years ago we changed our focus from selling and installing stairlifts as the main thrust of the business to providing repair and service for stairlifts.  This came about because we saw an uptick in phone calls from Acorn stairlift customers who were unsatisfied with their Acorn stairlifts and the service being provided by Acorn.  What a decision that was!  Over the years we have worked with thousands of Acorn customers to help them get quick service and repair at a fraction of the cost that the manufacturer provides.  Call us today as we are hands-on experts in providing repair and service for these products.
Acorn Stairlift Repair Service Areas
The Stairlift Medics technicians provide quick and reliable service and maintenance on Acorn stairlifts in many locations. We offer repair services in the following areas:
Maryland
Stairlift Service Virginia
West Virginia
Pennsylvania
Delaware
If you live in any of these states or the surrounding regions and you have an Acorn stairlift that needs repair service or maintenance, please call us at 800-695-6339 or fill out the form on our Contact page. We look forward to serving your Acorn stairlift repair needs!
Acorn Warranty Information: