Harmar Pinnacle SL300 Stairlift Installation In Frederick, Annapolis, Hagerstown, Springfield, Washington, D.C., Northern Virginia, and the Surrounding Areas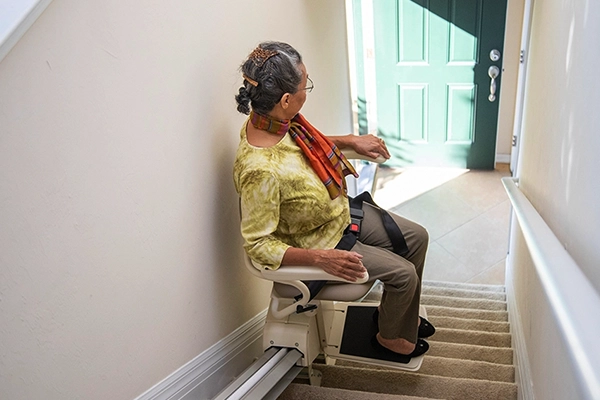 Pinnacle SL300
Going up? The Pinnacle SL300 is here to help you take that step toward accessing every floor in your home

.

With a lifting capacity of 300 lb, the SL300 provides riders with the confidence to go up and down their stairs safely and comfortably. It features a number of aspects that help to make it one of the most popular models in the Harmar stairlift lineup.
No grease or lubrication is required! This means a cleaner home for you, your family, as well as your pets
A very efficient motor means low electricity needs. And with a battery backup, you can use the SL300 for up to 60 cycles during a power outage
Your stairs will remain usable by others thanks to the folding feature of the SL300. Even narrow staircases can still be used when it is folded up
Safety is important and the integrated seat belt helps to ensure that all trips on the SL300 are safe and secure
The Harmar Pinnacle SL300 stairlift will transform your Frederick, Annapolis, Hagerstown, Springfield, Washington, D.C., Northern Virginia, or surrounding area home by providing you with reliable access to all levels of your home without worry.
---
Some features of the Pinnacle SL300
The stability of the SL300 is thanks to the over-sized worm gear that drives the stairlift
With no lubrication needed, it keeps the home and stairs mess free
With its symmetrical design, the SL300 offers the most compact folded width in the industry
The swivel seat on the SL300 means that you can have an easy on and easy off away from the staircase
Power outages won't leave you stranded as you can operate dozens of cycles with the battery power
Safety sensors in the footrest as well as optional sensors in the chassis mean the stairlift will stop if it meets an obstruction
Request a quote on a Harmar Pinnacle Stairlift of Your Own
ACCESS IN YOUR HOME IS VITAL. Take away the limitations – We call back & follow up!
Request a Quote
Harmar Pinnacle SL300 Stairlift For Sale
The Harmar Pinnacle SL300 stairlift is the perfect answer to your issues going up and down your straight staircase in your Frederick, Annapolis, Hagerstown, Springfield, Washington, D.C., Northern Virginia, and the surrounding area home.
Don't take chances on suffering an injury at home on your stairs and instead be confident that you can live in your home for years to come.
Contact Stairlift Medics today to learn more about adding a Pinnacle SL300 stairlift to your home.