Bruno Stairlift for Sale and Stairlift Installation in Baltimore, Frederick, Silver Spring, Damascus, Upper Marlboro, MD and the Surrounding Areas
Are you ready to increase the quality of life in your own home?
Looking to safely enhance your mobility? Desire to "age in place" but have trouble navigating the stairs? A stairlift installation could be exactly what you are looking for and a lot easier to get than you think.
At Stairlift Medics, we have had a local presence in the Baltimore area for 30 years. We have helped all types of homeowners with mobility issues gain their independence back. For local residents in Damascus, MD, Frederick, Silver Spring and Upper Marlboro, we are ready to help you with all your stairlift needs, including if you are looking for a Bruno stairlift for sale.
Stairlift Medics has represented Bruno stairlifts since the beginning of our company. The three indoor models from Bruno – the Elan, Elite Curved and Elite straight can fit the needs of almost any homeowner. These stairlifts are made in the USA and are designed to fit a number of applications with optional upgraded features. In fact, the Bruno Elan is the most popular straight stairlift in America.

We are Ready to Help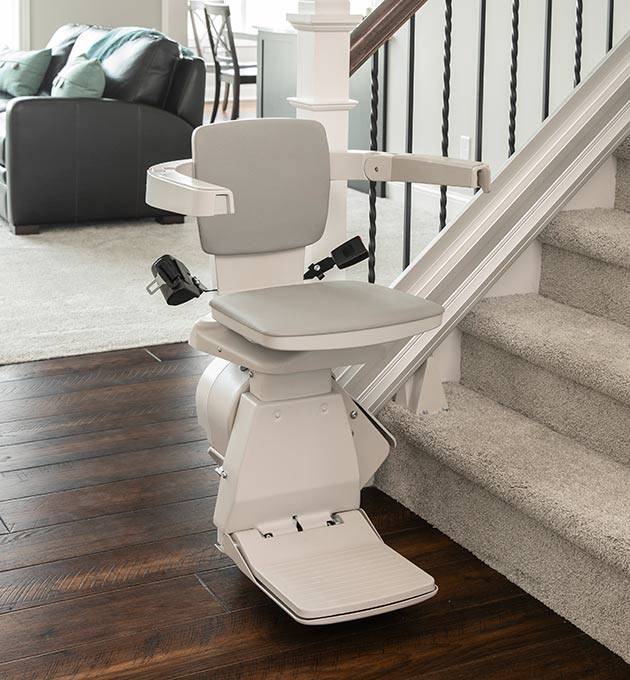 Bruno Stairlift for Sale
When you're looking for a Bruno stairlift for sale, we know you are looking for some of the best stairlifts in the industry. Bruno stairlifts have some of the best options for homeowners including overcoming obstacles in chairlift installation.
Sleek narrow design with no exposed grease or gears
Available for straight or curved installations
Options for outdoor applications
Completely made in the USA
Best warranty in the industry
An array of models and styles to meet all stairlift needs
Heavy-duty models that can be used for riders up to 400 pounds
Additional options to increase ease of use
Stairlift and Chairlift Installation
There is a number of reasons you should trust Stairlift Medics with your next stairlift installation. Our company started 30 years ago with the desire to help residents with mobility problems regain their independence. We know what it means to stay in your home. Our founder battled MS and had personal insight into the challenges homeowners can face with gaining full access safely within their own homes. We invite residents of Baltimore, Damascus, MD, Frederick, Silver Spring, and Upper Marlboro to see what a chairlift installation can do for them.
30 years of experience in the stairlift installation industry
All stairlift service and installation performed by experienced and qualified technicians
We take your repair seriously and will do our best to provide quick and reliable repairs
We carry most parts in our warehouse and can typically have your stairlift up and running the same day
Stairlift installation of many different brands, even if you didn't buy from us!
Rapid repair services for Acorn, Bruno, TK Access, and many more Stairlift manufacturers