New Harmar Stairlift Installation In Frederick, Annapolis, Hagerstown, Springfield, Washington, D.C., Northern Virginia, and the Surrounding Areas
Harmar Stairlift Sales and Installation

Stairlift Medics proudly sells and installs Harmar stairlifts.
Your home in Frederick, Annapolis, Hagerstown, Springfield, Washington, D.C., Northern Virginia, and the surrounding areas should be a sanctuary, not where you injure yourself or are afraid to go to certain areas. With Harmar Stairlifts for sale, we at Stairlift Medics now offer installation and you can stay in the home that you love. Whether you have a straight staircase or you have curved stairs, we have a Harmar Stairlift installation package that will work perfectly for your home. Contact our team today to learn more about the different Harmar stairlifts.
Contact us today to inquire about Harmar stairlift sales and installation.
800-695-6339
Pinnacle Straight Stairlift
The Pinnacle Straight Stairlift from Harmar comes in several different varieties that can accommodate up to 600 pounds for the SL600HD model.
We can help to make your Pinnacle Straight Stairlift work even better for your home with options including:
Folding rail to help prevent tripping
Extra rail to provide a space away from the stairs for your stairlift
Retractable seatbelt to keep things tidy
Key locking system
Patented helical worm gear drive
Helix Curved Stairlift
Many homes have a stairway that is curved or otherwise does not go straight up. The Helix Curved Stairlift from Harmar is the answer to your mobility issues on a curved stairway.

Helix curved stairlifts were designed to mount closely to the wall to allow ample room for others to use the staircase and enable the lift to make those tight bends and radius curves. The Helix Curved Stairlift can handle inclines up to 60 degrees and can handle up to 350 pounds while moving at 20 feet per minute.
Learn more about the Helix Curved Stairlift for your curved stairway.
Summit Straight Stairlift
You may want to have a straight stairlift but it is for a stairway that isn't used as much as the rest of the home. The Summit Straight stairlift for sale may fit the bill.
The SL350AC is a direct plug-in to operate on AC power, meaning you won't have to deal with the battery maintenance and issues that can sometimes happen with stairlifts that have battery back-ups.
 Mounts to the stairs (not the wall) on either side of the staircase
 Operates on standard 115V AC household current
This model also features a grocery basket add-on to help move items between floors more easily.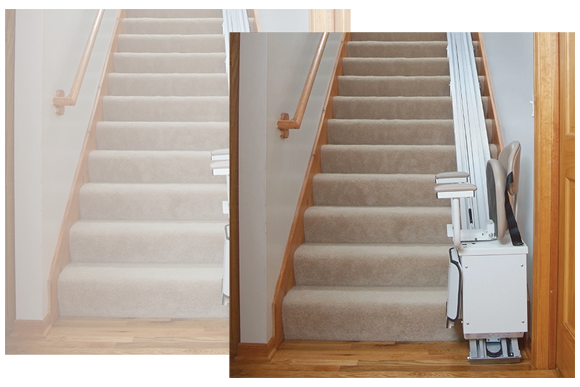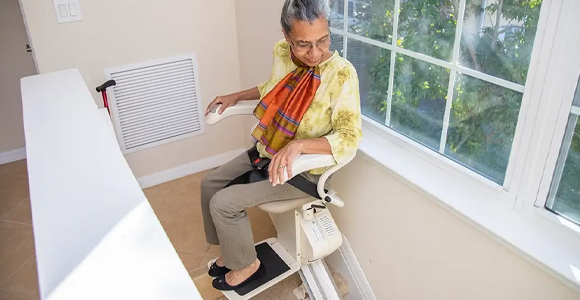 Premium Harmar Stairlifts for Sale with Professional Harmar Stairlift Installation Service
At Stairlift Medic we have a number of stairlifts for sale and can provide you with quality stairlift installation as well.
Join the many satisfied clients in Frederick, Annapolis, Hagerstown, Springfield, Washington, D.C., Northern Virginia, and the surrounding areas who have installed a Harmar stairlift. Contact us today to learn more.
For more information on Harmar stairlift sales or to have a Harmar lift installed, contact Stairlift Medics at 800-695-6339.