Bruno Elite Stair Lift for Sale in Frederick, Damascus, Upper Marlboro, Baltimore, Silver Spring, MD, and the Surrounding Areas
Combine quality, comfort, and style with a new Bruno Elite stair lift.

When our customers are looking for a Bruno stairlift for sale, they often ask what are the differences between the models. We have created this resource to help explain the different models offered by Bruno. The Bruno stairlift installation you choose will depend on your home's design and your needs.
Make sure when you are searching for a Bruno stairlift for sale, you choose the model with the features that will enhance your mobility and quality of life. The Elite offers everything included in America's top stairlift, the Elan, with more options.
Bruno Elite
Reliable and simple operation – Armrest controls and two wireless remote controls, wireless call/send controls
Luxury and comfort – Plush and generous comfort with a generous seat and multiple adjustability for height, arm widths and footrest height
Multiple safety features – Retractable seat belt and obstruction safety sensors
Ultra-compact and space-saving – narrow vertical rail with non-obtrusive and foldable arms, footrest, and seat
Covered gear rack – Extend stairlift installation by reducing dirt and dust to the mechanism
Easy on/off – Swivel seat extends away from steps and locks for safe and secure entry and exit
Dependable service – Battery power for use, even in a power outage. Continuous charging at every point along the rail.
Multiple options – Customize for individual needs and tastes including power options, such as power swivel seat and power-folding footrest, and system colors
Bruno Elite Features
400 Lb Lift Capacity (181 Kg) | Limited Lifetime Warranty | Made In USA
Safety
Obstruction sensors notify and stop the stairlift when meeting any object, with no worry for little ones or pets.
Seat belt for increased security
Offset swivel seat to exit on level ground
Specs
Vertical Rail installed within 5 in (127 mm) of the wall
Generous seat pad size 17.5 in wide x 15 in deep (445 mm x 381 mm)
Footrest size 10 in long x 9 in deep (254 mm x 229 mm)
Adjustable width armrests 15.75 in – 21.75 in (451 mm – 552 mm) between arms
Power
Two 12-volt batteries
Charging strips located throughout the rail to power unit at all areas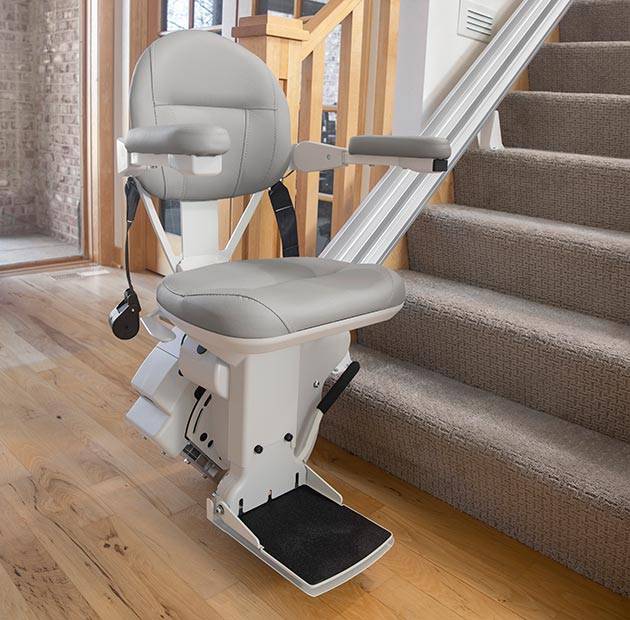 Request More Information or a Quote for This Stairlift

Chairlift Installation
Once you have chosen the right chairlift installation for you and your family, we'll handle everything else. When your new Bruno stairlift arrives, you can expect stairlift installation to take about half a day. We won't leave until you understand how to safely use your new chairlift installation and we answer any questions you have. So by the end of the day, you will be going up and down your stairs with increased safety and freedom. Wherever you are in the Baltimore area – Damascus, MD, Frederick, Silver Springs, Upper Marlboro, or the surrounding areas, we're your connection for all stairlift installations.
Bruno Stairlift Repair
If you ever need Bruno chairlift repair, come to the company that has been working with Bruno Stairlifts since 1992. With your Bruno chairlift installation, you received an excellent warranty, so never hesitate when it comes to any Bruno stairlift repair or service. Call Stairlift Medics with all your concerns when you are looking for a reliable, fast, and knowledgeable Bruno stairlift repair company. We know they are excellent stairlift options and we are ready to get them to their top working operation throughout our Baltimore area including Damascus, MD, Frederick, Silver Springs, Upper Marlboro, and surrounding areas.