Bruno vs Other Manufacturers in Upper Marlboro, Frederick, Baltimore, Silver Spring, Annapolis, MD, and More
Bruno is a top-selling, USA based stairlift manufacturer.

A Bruno stairlift is the only stairlift we sell and install. It is reliable, quiet, and customizable. This is the chairlift designed and built specifically for your home.
Reliable and simple operation – Armrest controls and two wireless remote controls, wireless call/send controls
Luxury and comfort – Generous-sized and stylized chair with adjustable height, arm width and footrest for the ultimate comfort
Multiple safety features – Retractable seat belt and obstruction safety sensors
Custom-crafted vertical rail – Handmade for precision fit, smooth ride, beautiful curves and to maximize stairway space for all house residents
Ultra-compact and space-saving – Non-obtrusive when arms, footrest and seat are folded
Covered gear rack – Extend stairlift lifetime use by reducing dirt and dust to the mechanism
Easy on/off – Swivel seat extends away from steps and locks for safe and secure entry and exit. Overrun park position for extended exit area.
Dependable power – Even in an electric outage, battery power ensures dependable performance
Mid-park and charge station – For chairlift installation with landings
Multiple options – Customizable for individual needs and tastes including power options and colors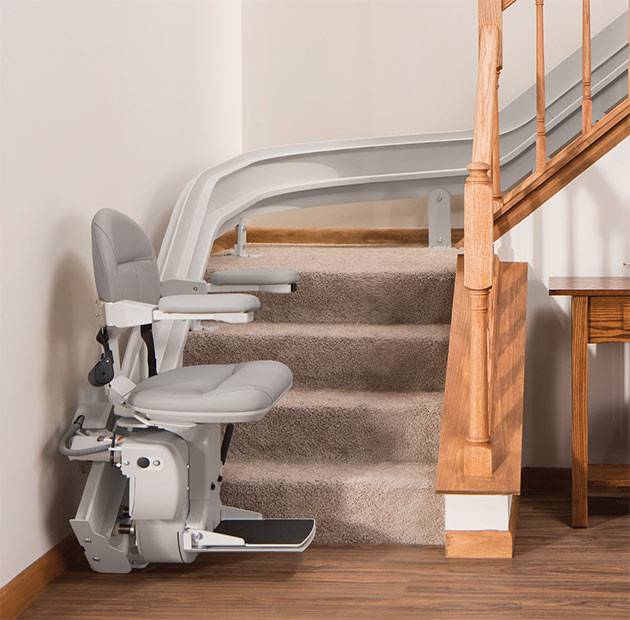 Request More Information or a Quote for a Bruno Stairlift

Stairlift Installation
Do you want to learn more about a Bruno Stairlift? We have experience with all different types and designs of Maryland area houses throughout Annapolis, Baltimore, Frederick, Silver Spring, and Upper Marlboro. So many customers think a stairlift installation is out of reach due to the configuration of their home. But we are experienced in all types of challenges including:
Outdoor applications
Multiple level households
Curved staircase
One or more landings
Unique user needs