Handicare Stairlift Repair in Frederick, Upper Marlboro, Damascus, Baltimore, Silver Spring, MD, Philadelphia, Willow Grove, Doylestown, PA, and the Surrounding Areas

Get your Handicare stairlift repair immediately with Stairlift Medics!
Is your stairlift broken, hesitating, making strange noises, or just need routine maintenance? Call the local experts with a fully stocked warehouse and 30 years of stairlift repair experience. We have worked with all different models and designs. Not only do we know the usual stairlift problems, but we also know particular issues for repairing different manufacturer models including Handicare stairlifts.
We want to get the residents of Frederick, Upper Marlboro, Damascus, Baltimore, Silver Spring, MD and the surrounding areas back to their daily lives and routines. No one should move throughout their home with the fear of falling due to balance, joint issues or coordination. Call us as soon as you notice anything amiss with your stairlift so we can get right on your Handicare stairlift repair as soon as possible.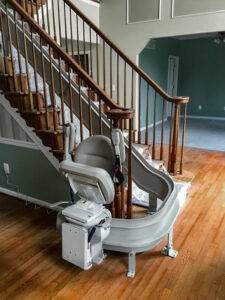 Handicare Stairlift Maintenance
We complete all types of Handicare stairlift repairs including:
Platform and landing repairs
Track maintenance
Worn hardware replacements
Motor and lift issues
Installation issues
Safe stairlift removal
And any other repairs, service, and maintenance you need. Our customers trust and recommend us throughout Frederick, Upper Marlboro, Damascus, Baltimore, Silver Spring, MD and the surrounding areas. You can too!
We hate to see customers without the dependable convenience and assistance from their stairlift. This is why we take annual maintenance seriously. Handicare stairlifts are excellent mobility devices but like any other machine, they can be subject to maintenance needs. An unfriendly environment, heavy use and other conditions can stress your Handicare stairlift and affect its operation.
Handicare Stairlift Repair Services
You know you can trust Stairlift Medics for immediate and dependable Handicare routine maintenance service but let us also help you to avoid the hassle and disruption of downtime. Be sure you can enjoy your investment for years to come with Handicare stairlift repair from Stairlift Medics.
Handicare has almost 10 different stairlift models including straight, curved, and outdoor. With all these different models, you might be worried about a stairlift repair company having the parts you need when you need them. But, at Stairlift Medics we have a fully stocked warehouse for immediate repairs. When you call us, we will ask you a series of questions to help diagnose the problem quickly right over the phone. But even if you don't know what exact type of Handicare stairlift repair you need, don't fret!
Our technicians are experienced and knowledgeable to get you back to safe and convenient mobility as soon as possible!
If you need stairlift repair for another brand, please give us a call. While these are the main brands we service, we have completed stairlift repair services on many different brands throughout our 30-year history. 800-695-6339