Bruno Elan Stairlift Installation In Silver Spring, Upper Marlboro, Damascus, Frederick, Baltimore, MD, and the Surrounding Areas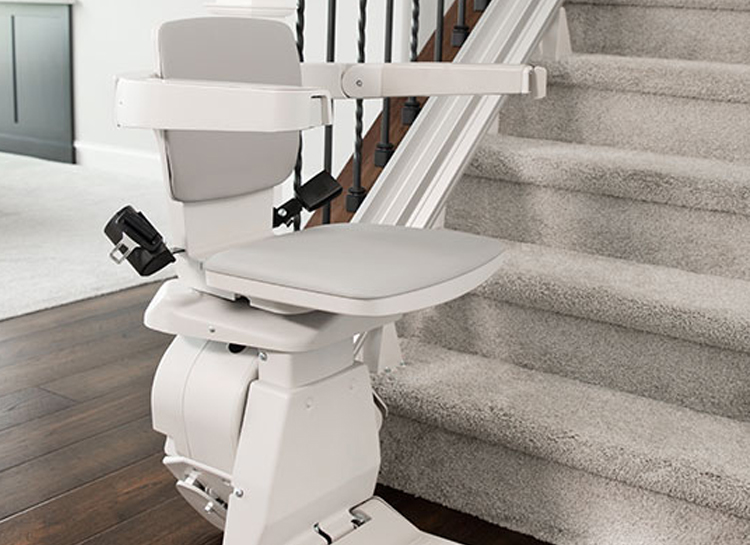 Bruno Elan
The Bruno Elan stairlift is the best of the best.

Now that you are looking for a Bruno stairlift for sale, let Stairlift Medics tell you why the Bruno Elan stairlift might the right choice for you. After all, Bruno's Elan stairlift is the most popular American-made straight stairlift, and for good reason. Customers rave about the stylish design, high-quality functionality, and easy operation.
Reliable and simple operation – armrest controls and two wireless remote controls
Space Saving – Narrow and non-bulky vertical rail for space-saving design won't impede on other family members
Easy on/off – Swivel seat extends away from steps and locks for safe and secure entry and exit
Ultra-compact – Non-obtrusive when arms, footrest, and seat folded
Multiple safety features – Retractable seat belt and obstruction safety sensors
Dependable service – Battery power for use, even in power outages. Continuous charging at every point along the rail.
Hidden gear rack for a clean, sleek appearance and reduced exposure to dirt, dust, and grease
No matter where you are in the Baltimore area, Damascus, MD, Frederick, Silver Spring, Upper Marlboro, or the surrounding areas, we are ready to help you with whichever Bruno chairlift installation you need.
---
Bruno Elan Features
300 Lb Lift Capacity (136 Kg) | Limited Lifetime Warranty | Made In USA
Obstruction sensors notify and stop the stairlift when meeting any object
Seat belt for increased security
Offset swivel seat to exit on level ground
Vertical rail installed within 5 in (127 mm) of the wall
Two 12-volt batteries
Charging strips located throughout the rail to power unit in all areas
Request a quote on a Bruno Elan Stairlift of Your Own
ACCESS IN YOUR HOME IS VITAL. Take away the limitations – We call back & follow up!
Request a Quote
Bruno Elan Stair Lift
Options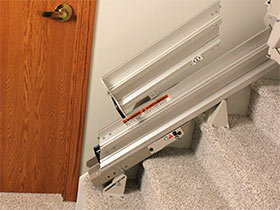 Folding Rail
Powered and manually operated folding rails.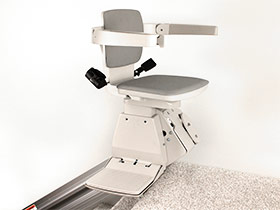 Power Swivel Seat
Easy to use on/off power swiveling seat.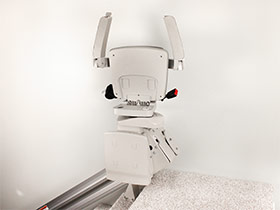 Power Folding Footrest
Flip footrest up/down when seat is raised/lowered.
---
Easy Troubleshooting of Your Bruno Elan
If your Bruno Elan stairlift isn't wanting to work properly, there are a few simple things that you can check that will likely take care of the issue:
Make sure that the seat is swiveled and locked into position before hitting the toggle switch on the armrest
Make sure that the armrests are folded down as the stairlift will not operate with them folded up
The footrest and carriage are equipped with obstruction sensors that are directional in nature. If the stairlift stops, reverse the chair and remove the obstruction
The lift has a circuit breaker with a built-in on/off switch located on the back of the carriage. If the lift stops working check this circuit breaker
---
Elan Battery Charger LED'S and Meaning
It is important to understand what the LEDs on your Bruno Elan stairlift mean and what you should do about it. If the charger is plugged in but you do not see any red indicator light, you will need to have service done by calling Stairlift Medics right away to correct it. The following light colors will help you to know the health of your charging system.
Red – the AC power is on
Red (flashing) – the batteries are defective and need service
Yellow – the batteries are charging, this is a normal status
Green – the batteries are fully charged
---
Audio Diagnostic Tones
Your Bruno Elan stairlift will provide you with some audio clues as to what is going on with the chair itself. These are better explained on this list:
When the circuit board in the stairlift is powered up you will hear a chirp
When a safety device is activated the chair will chirp
If the seat safety is disengaged, the chair will chirp every three seconds until the seat safety switch is re-engaged and the chair is in the normal operating position
If the stairlift is in the parked position with a charge that isn't detected, you will hear five beeps (three long, two short). This repeats every four minutes
You will also hear the five beeps (three long and two short) every minute if the battery voltage is critical
If a switch is active during the power-up, there will be two beeps, a pause, then five beeps. The long beeps will indicate which switch is active. These will continue to sound every 5 seconds until all switches are off
If the transmitter memory is full, the chair will sound one short beep and two long beeps