Bruno Elan Stairlift Installation in Silver Spring, Upper Marlboro, Damascus, Frederick, Baltimore, MD, and the Surrounding Areas

The Bruno Elan stairlift is the best of the best.
Now that you are looking for a Bruno stairlift for sale, let Stairlift Medics tell you why the Bruno Elan stairlift might the right choice for you. After all, Bruno's Elan stairlift is the most popular American-made straight stairlift, and for good reasons. Customers rave about the stylish design, high-quality functionality, and easy operation.
Bruno Elan
Reliable and simple operation – armrest controls and two wireless remote controls
Space Saving – Narrow and non-bulky vertical rail design for space-saving design won't impede on other family members
Easy on/off – Swivel seat extends away from steps and locks for safe and secure entry and exit
Ultra-compact – Non-obtrusive when arms, footrest, seat folded
Multiple safety features – Retractable seat belt and obstruction safety sensors
Dependable service – Battery power for use, even in power outage. Continuous charging at every point along the rail.
Hidden gear rack for clean, sleek appearance and a reduced exposure to dirt, dust, and grease
Bruno Elan Features
300 Lb Lift Capacity (136 Kg) | Limited Lifetime Warranty | Made In USA
Safety
Obstruction sensors notify and stop stairlift when meeting any object, no worry for little ones or pets
Seat belt for increased security
Offset swivel seat to exit on level ground
Specs
Vertical rail installed within 5 in (127 mm) of the wall
Seat pad 15.75 in wide x 16.75 in deep (391 mm x 416 mm)
Footrest size 10.5 in long x 11 in wide (267 mm x 279 mm)
Width between arms – 20.25 in (514 mm)
Power
Two 12-volt batteries
Charging strips located throughout the rail to power unit at all areas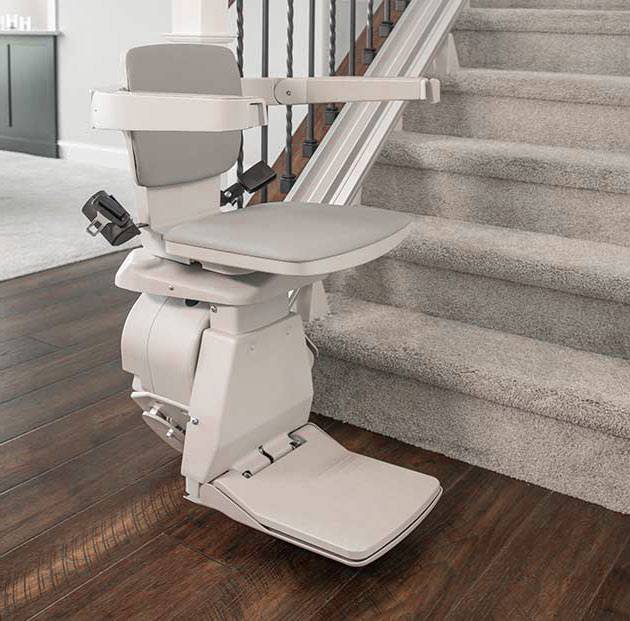 Request More Information or a Quote for This Stairlift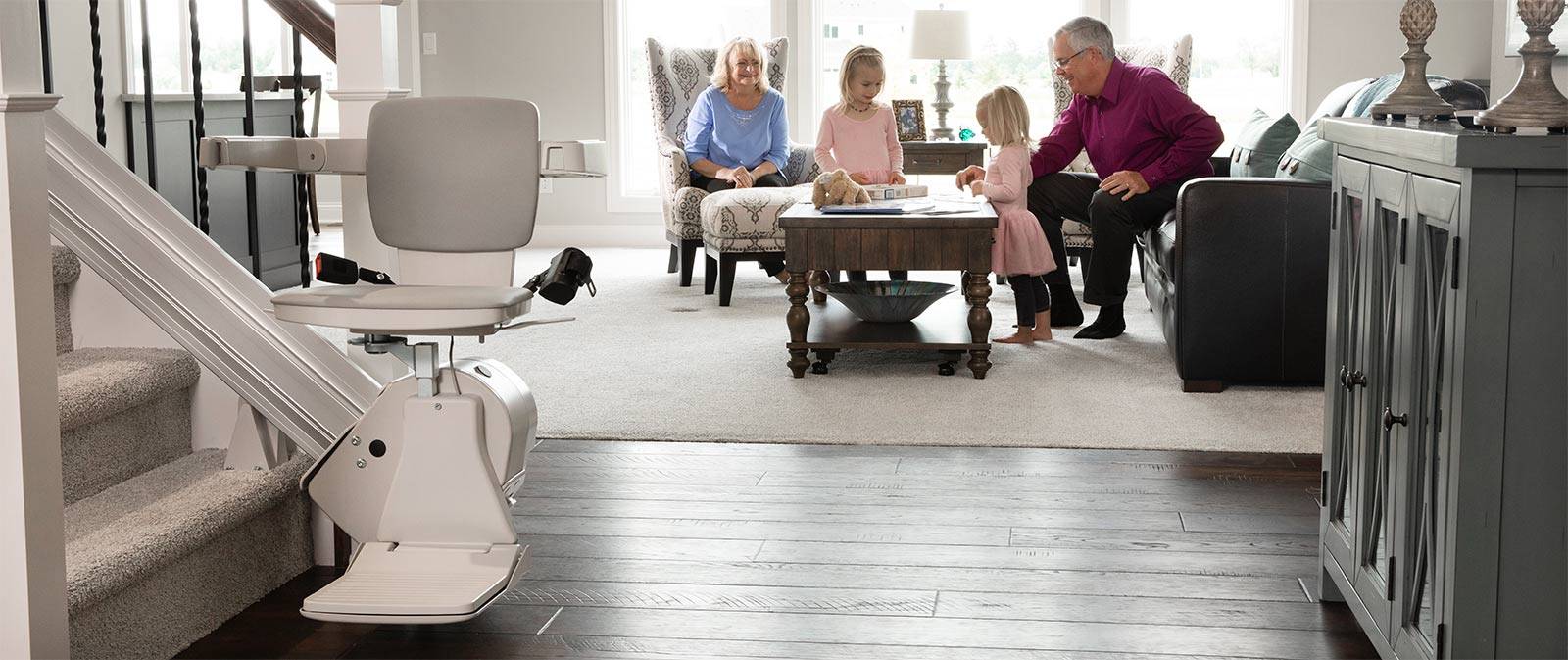 Bruno Stairlift for Sale
Getting a Bruno stairlift installation is easier than you think. We invite you to look over the specs and see which Bruno stairlift installation is right for you. If you have any questions, you can always call us, including questions regarding difficult stairwells and customization. After all, we've been providing chairlift installation services for Bruno models since 1992.
No matter where you are in the Baltimore area, Damascus, MD, Frederick, Silver Spring, Upper Marlboro, or the surrounding areas, we are ready to help you with whichever Bruno chairlift installation you need.
Bruno Chairlift Repair
There are very few things more frustrating than needing repair, including Bruno stairlift repair. While Bruno stairlifts are remarkably reliable, all machines are subject to wear and tear, or unexpected issues. Your Bruno stairlift has an exceptional warranty that makes Bruno chairlift repair easy and headache-free. At Stairlift Medics, we have a couple of advantages that help make us your source of reliable Bruno stairlift repair – we carry many parts in stock and have experienced and knowledgeable technicians. So give us a call whenever you need Bruno chairlift repair for speedy and reliable service.