Stairlift Repair, Stairlift Installation, and Bruno Stairlifts for Sale

Servicing the Mid-Atlantic States, including Maryland, Pennsylvania, Virginia, Washington DC, and the Surrounding Areas of WV & DE
We provide the best stairlift installation and repair service, going above and beyond to fulfill your needs. Our mission is to keep our customers 100% happy. You don't need to be stuck or make difficult life choices. We will service your stairlifts with a quick turnaround time.
We exclusively sell Bruno, the most popular American-made stairlift manufacturer. Every stairlift is handcrafted and created with care with parts sourced exclusively in the USA. We uphold the same values to provide high-quality service.
ACCESS IN YOUR HOME IS VITAL Take away the limitations – We call back & follow up!
Frequently Asked Questions
What are the different types of stairlifts and how are they used?
Depending on how your staircase is configured you will need either a straight stairlift or a custom curved stairlift.  While a straight stairlift is a very straightforward application, staircases with turns have multiple options as far as stairlift application.  The type of turn or turns on your staircase and the ability of the end-user to transfer or walk will determine the best option for a stairlift.  As an example, if the staircase has a 90-degree turn in it with a flat landing in the middle, you could either install a continuous custom curved stairlift or install two straight stairlifts and transfer on the middle landing.  The advantage of the curved lift obviously is no need to transfer in the middle, but the two, straight lift option is typically half the cost of a custom curved stairlift.
What if there's a power failure?
All modern stairlifts run off batteries so there is never a risk of the stairlift not running during a power failure in the home.
I have a staircase with a landing. Should I use 2 straight stairlifts or a curved stairlift?
This question is answered based on the abilities and budget of the end-user. If the landing in the middle of the two flights is flat often two individual stairlifts can be used to keep costs down. On most flat landings it is as simple as the client riding up the first. Flight, swiveling the stairlift chair, standing up and pivoting and then sitting on the other. For more complex flights or for people whose disabilities may be too involved or complex the custom stairlift is a better option. i.e, someone with M.S. or Parkinson's would probably benefit from doing the custom unit to avoid the need for a middle transfer, while someone who can typically walk on a horizontal surface, but has trouble with steps could easily use the two stairlift option.
Read More FAQs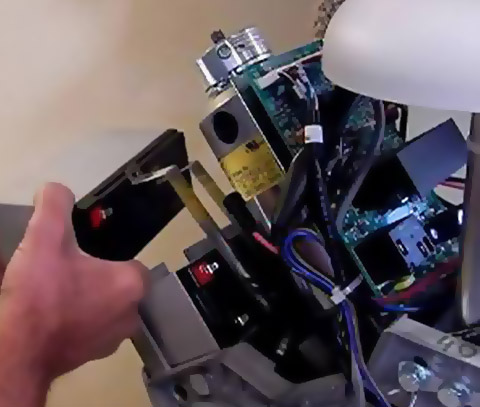 Stairlift Repair
Stairlift Medics is a family-owned business with over 30 years of experience. We have extensive knowledge and can
repair most stairlift brands
. If you want to fix or bring your stairlift back to factory condition, we can help. We provide expert service for Acorn, Bruno, Handicare, Harmar, Sterling, ThyssenKrupp, Access Industries stairlifts. We provide service throughout the Mid-Atlantic region. Often that old stairlift, where the manufacturer is long out of business, can still be repaired depending on the availability of parts. Frequently, the stairlift can be diagnosed over the phone after answering a series of questions to give you a good idea of what is wrong with your stairlift and what the approximate cost to fix it will be to avoid any sudden surprises. We offer an
upload link
to send us a photo of your stairlift if you're unsure of what you have. Our technicians repair most of the stairlift brands that are in the market and can provide quick and effective service to get your sick stairlift up and running again.
Indoor Stairlifts
The most popular model Bruno offers is the Elan.
This stairlift is the narrowest stairlift on the market with the rail taking up a modest 5" of space at its furthest point from the wall.
The Elan
comes with a limited lifetime warranty to the original purchaser which covers all the major components like the motor and gearbox. The Elan will charge wherever it is positioned along the rail and is 100% USA made with assembly and parts all being US based. The Elan holds 300 pounds and is a very reliable and durable stairlift. We install close to 500 of these stairlifts a year and rarely, to never, get callbacks or have issues with them.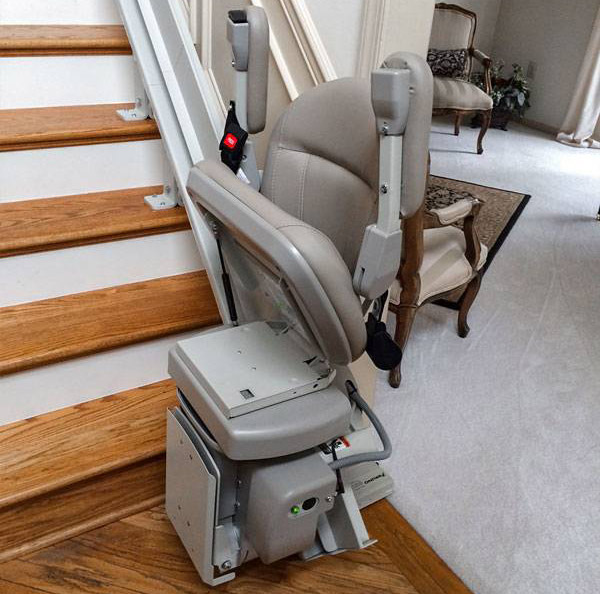 Heavy Duty support with the Elite and Curved Elite
For those who may be over the 300-pound capacity, Bruno offers the heavy-duty
Elite stairlift
which holds 400 pounds. Offers all the above features of the Elan with the added benefit of a larger seat and heavier weight capacity. These are an excellent choice for clients approaching or over the Elan weight capacity. We get many customers questioning the benefits of the Elite over the Elan, and it really does come down to weight capacity. Many like the larger seat on the Elite and we do sell many to clients who are under the 300-pound capacity of the Elan, but prefer the larger seat on the Elite. One thing we like to remind clients who are under 300 pounds and are thinking about the Elite is that you are typically only sitting in the chair for 30-40 seconds a ride so the additional cost saving of the Elan may outweigh the slight comfort increase of the Elite. For those individuals that have a curved or multi-landing staircase, see what the
Bruno Curved Elite
offers.
Outdoor Stairlifts
Bruno
outdoor stairlifts
are rugged and the only outside stairlift purposely built for outside. Use Bruno to get down to the lake, patio, or porch. Why stay indoors when you can be outside year-round? Bruno's straight and curved stairlifts can support up to 400 pounds and are built to withstand extreme weather conditions. Bruno offers a five-year gold warranty on all major components. Rest assured, you can enjoy the outdoors again with friends and family.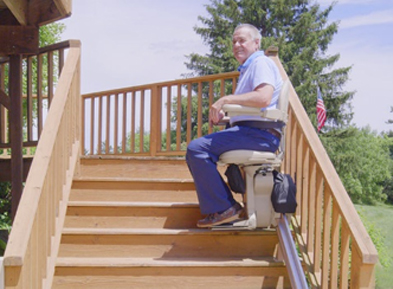 GET IN TOUCH!
BRUNO STAIRLIFTS ARE MADE IN THE USA
We sell only Bruno, the most popular American-made stairlift manufacturer. Every stairlift is handcrafted and created with care with parts sourced exclusively in the USA. We uphold the same values to provide high-quality service.
CONTACT US
Customer Reviews
I have been a customer of Stairlift Medics since 2018 and can only speak in superlatives about Doug and his great service to me.

He put in a used stairlift for me in 2018. One of the best things about this company is that they ANSWER their phone. A recent example is that my stairlift starting beeping which indicated a problem on Thursday evening and we had to disconnect. I called Stairlift Medics and as usual Doug answered his phone and asked a few questions and asked me to check a few things and call him back. Before I could call him, he called me back and told me he would be out in early afternoon if that was okay with me. He later …

Doug has been a blessing for us more than once.

I appreciate his warning us before he blasted the noisy drill?. He is all about customer service. He wears a mask while working at our home. Thank you for the great stair lift. My life is easier and safer. Happy holidays.
Read More Reviews
Brands we service include, and are not limited to:








Our BLOG
We comprehend that portability isn't just about wheelchair-available vehicles. Of the …
Harmar SL600 stairlift is slightly slimmer when folded, providing an additional 1/2 …
Stairlifts are more powerful and dependable than they have ever been. …