Stairlift Repair, Stairlift Installation, and Bruno Stairlifts for Sale

Servicing the Mid-Atlantic States, including Maryland, Pennsylvania, Virginia, Washington DC, and the Surrounding Areas of WV & DE
We provide the best stairlift installation and repair service, going above and beyond to fulfill your needs. Our mission is to keep our customers 100% happy. You don't need to be stuck or make difficult life choices. We will service your stairlifts with a quick turnaround time.
We exclusively sell Bruno, the most popular American-made stairlift manufacturer. Every stairlift is handcrafted and created with care with parts sourced exclusively in the USA. We uphold the same values to provide high-quality service.
ACCESS IN YOUR HOME IS VITAL Take away the limitations – We call back & follow up!
Frequently Asked Questions
What are the different types of stairlifts and how are they used?
Depending on how your staircase is configured you will need either a straight stairlift or a custom curved stairlift.  While a straight stairlift is a very straightforward application, staircases with turns have multiple options as far as stairlift application.  The type of turn or turns on your staircase and the ability of the end-user to transfer or walk will determine the best option for a stairlift.  As an example, if the staircase has a 90-degree turn in it with a flat landing in the middle, you could either install a continuous custom curved stairlift or install two straight stairlifts and transfer on the middle landing.  The advantage of the curved lift obviously is no need to transfer in the middle, but the two, straight lift option is typically half the cost of a custom curved stairlift.
What if there's a power failure?
All modern stairlifts run off batteries so there is never a risk of the stairlift not running during a power failure in the home.
I have a staircase with a landing. Should I use 2 straight stairlifts or a curved stairlift?
This question is answered based on the abilities and budget of the end-user. If the landing in the middle of the two flights is flat often two individual stairlifts can be used to keep costs down. On most flat landings it is as simple as the client riding up the first. Flight, swiveling the stairlift chair, standing up and pivoting and then sitting on the other. For more complex flights or for people whose disabilities may be too involved or complex the custom stairlift is a better option. i.e, someone with M.S. or Parkinson's would probably benefit from doing the custom unit to avoid the need for a middle transfer, while someone who can typically walk on a horizontal surface, but has trouble with steps could easily use the two stairlift option.
Read More FAQs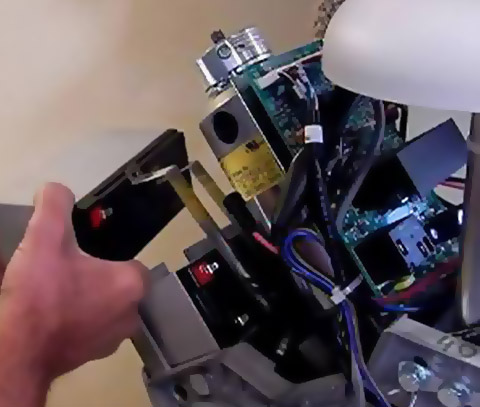 Stairlift Repair
Stairlift Medics is a family-owned business with over 30 years of experience. We have extensive knowledge and can
repair most stairlift brands
. If you want to fix or bring your stairlift back to factory condition, we can help. We provide expert service for Acorn, Bruno, Handicare, Harmar, Sterling, ThyssenKrupp, Access Industries stairlifts. We provide service throughout the Mid-Atlantic region. Often that old stairlift, where the manufacturer is long out of business, can still be repaired depending on the availability of parts. Frequently, the stairlift can be diagnosed over the phone after answering a series of questions to give you a good idea of what is wrong with your stairlift and what the approximate cost to fix it will be to avoid any sudden surprises. We offer an
upload link
to send us a photo of your stairlift if you're unsure of what you have. Our technicians repair most of the stairlift brands that are in the market and can provide quick and effective service to get your sick stairlift up and running again.
Indoor Stairlifts
The most popular model Bruno offers is the Elan.
This stairlift is the narrowest stairlift on the market with the rail taking up a modest 5" of space at its furthest point from the wall.
The Elan
comes with a limited lifetime warranty to the original purchaser which covers all the major components like the motor and gearbox. The Elan will charge wherever it is positioned along the rail and is 100% USA made with assembly and parts all being US based. The Elan holds 300 pounds and is a very reliable and durable stairlift. We install close to 500 of these stairlifts a year and rarely, to never, get callbacks or have issues with them.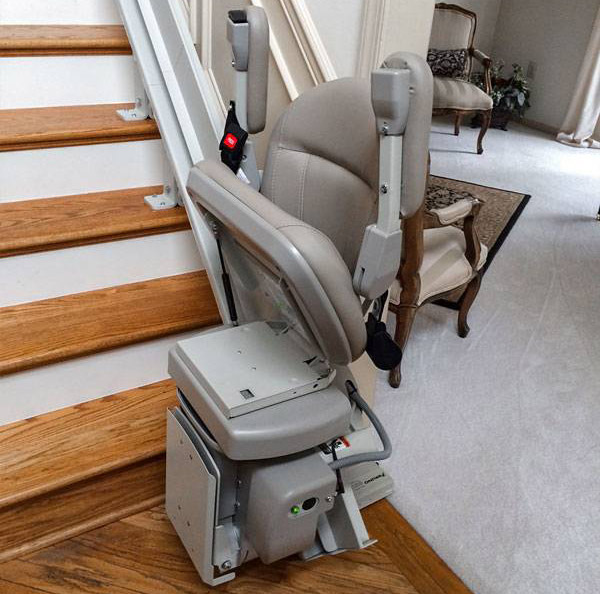 Heavy Duty support with the Elite and Curved Elite
For those who may be over the 300-pound capacity, Bruno offers the heavy-duty
Elite stairlift
which holds 400 pounds. Offers all the above features of the Elan with the added benefit of a larger seat and heavier weight capacity. These are an excellent choice for clients approaching or over the Elan weight capacity. We get many customers questioning the benefits of the Elite over the Elan, and it really does come down to weight capacity. Many like the larger seat on the Elite and we do sell many to clients who are under the 300-pound capacity of the Elan, but prefer the larger seat on the Elite. One thing we like to remind clients who are under 300 pounds and are thinking about the Elite is that you are typically only sitting in the chair for 30-40 seconds a ride so the additional cost saving of the Elan may outweigh the slight comfort increase of the Elite. For those individuals that have a curved or multi-landing staircase, see what the
Bruno Curved Elite
offers.
Outdoor Stairlifts
Bruno
outdoor stairlifts
are rugged and the only outside stairlift purposely built for outside. Use Bruno to get down to the lake, patio, or porch. Why stay indoors when you can be outside year-round? Bruno's straight and curved stairlifts can support up to 400 pounds and are built to withstand extreme weather conditions. Bruno offers a five-year gold warranty on all major components. Rest assured, you can enjoy the outdoors again with friends and family.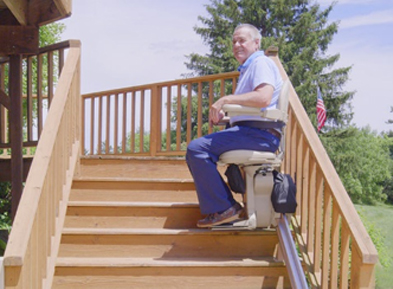 GET IN TOUCH!
BRUNO STAIRLIFTS ARE MADE IN THE USA
We sell only Bruno, the most popular American-made stairlift manufacturer. Every stairlift is handcrafted and created with care with parts sourced exclusively in the USA. We uphold the same values to provide high-quality service.
CONTACT US
Customer Reviews
Professional, Personable, and Competent!

Of the 5 companies I called about having stairlifts installed, Stairlift Medics was the first to call me back, and the only one to have the actual installer call. Doug answered all my questions, gave me a fair price, and was able to install the next day. He and Clive(?) showed up on time, installed the lifts in less than 2 hours, cleaned up after themselves, and clearly explained how to use the lifts. They are professional, personable, and competent, and I'm glad I went with them.

I have had a very good experience with this company. They came and discussed possible solutions to our problem and measured and discussed furniture to move to accommodate stairlift. It took about six weeks after ordering for the installation of the product. The crew that came was very efficient and the work was completed in about an hour and a half. We are very satisfied with the quality of the product and the service of the company. I have already recommended them to one of my neighbors.

VERY Professional Installer!

Doug was a VERY professional installer. He showed up on-time, and did a very thorough install. He also responded very quickly to my queries post-install & his after-sales service was SUPERB.

Great experience! Highly recommend!

Great experience! Highly recommend! Doug was able to quickly fit us in the schedule and Jeremiah was great at the install. He was on time and gave my parents detailed instructions on use. Having this stair lift in their home is a huge benefit and helps make their life so much easier. And I can worry less

We couldn't be happier with our new Stairlift chair from Stairlift Medics of Frederick. Doug was here yesterday afternoon to take a look and Jeremiah was here today to do the install of our Bruno Elan chair. The installation only took a little over an hour and after some information about the operation, my husband took it for a test drive. Very quiet, smooth ride. This stairlift chair will give us peace of mind in the years ahead and allow us to stay in the home we love. Highly recommend Stairlift Medics of Frederick for a great product and excellent …

I have been a customer of Stairlift Medics since 2018 and can only speak in superlatives about Doug and his great service to me.

He put in a used stairlift for me in 2018. One of the best things about this company is that they ANSWER their phone. A recent example is that my stairlift starting beeping which indicated a problem on Thursday evening and we had to disconnect. I called Stairlift Medics and as usual Doug answered his phone and asked a few questions and asked me to check a few things and call him back. Before I could call him, he called me back and told me he would be out in early afternoon if that was okay with me. He later …

Could not be any happier with Doug and Stairlift Medics

The turn around time and pricing is unmatched. Professional and courteous staff with a top notch product. HIGHLY RECOMMEND

I'm not the type of person who typically leaves reviews, but in this case

…it was the least I could do. My parents were struggling in making a decision about a stairlift. Doug with Stairlift Medics and his staff were amazing from the start. After answering all of our questions, Doug came out to my parents home personally for the evaluation. He was extremely knowledgeable and personable. He spent a lot of time going over everything, including the pro and cons of the stairlift and our situation. My father really gave him a run for his money. Needless to say, we went Stairlift Medics and they continued to surprise us. They were on time …

Purchased a new stairlift by phone in Nov. 2021 from Stairlift Medics

Installation was scheduled for just a few days following purchase. Installer arrived promptly at the scheduled time (following a brief phone call to indicate that he was departing the worksite upon completing an earlier installation). Work at our home progressed smoothly, following the experienced, polite installer taking time to explain his general plan for the installation, to listen to my questions, & to explain a few options he had with the installation. Installer worked quickly, safely, & smartly, & cleaned up the work area after testing the operation of the lift. After carefully explaining, & demonstrating …

Doug was the first to contact me, same day as my internet inquiry

He provided a thorough overview on the phone about his recommendation after gathering details from me on our needs, and he provided a quote over the phone. He offered to stop by two days later for a free site visit to ensure he understood the space and constraints. He and his son arrived promptly, were very polite, ensured that Doug's initial recommendation was compatible, and offered to install that afternoon. They were very clean and efficient – in and out in an hour – and cleaned up thoroughly after themselves upon completing the installation. Doug was not only the most articulate …

Doug Kober of Stairlift Medics was kind, competent and professional.

He arrived early for our appointment which is always a good sign. He carefully and meticulously installed my stairlift between the first floor and basement. He recommended the Elan model and its perfect for me. I've begun to use it and it really gives me great freedom of movement between the two levels of our house. It's very easy to get on and off at each level. It operates quietly and smoothly. With the seat folded, everyone is able to use our staircase easily. Thanks Doug, we appreciate you.

We previously had Stairlift Medics do service work on our previous unit

… that when came time to replace we switched to having Stairlift Medics install two Elan by Bruno stairlifts. Talking with Doug about what we needed he listened and understood what we were looking for. Setting up the install was easy. Installation was done profesionally and with social distancing. He explained the operation of both units in detail with the end user. He was patient and answered all questions. He took away the old unit along with all the install debris leaving a clean house. I would recommed him for any service and installs!

Wow!! I hit the jackpot today after trying for months

… to get my mother's stairlift fixed. The first person I called today was Doug Kober of Stairlift Medics and I got an appointment for the very same day. Same day service!! Doug the technician was prompt, friendly and very knowledgeable. He fixed the lift that was inoperable for quite some time in no time at all. If you want good quality work done that is reasonably priced, give Doug a call!! You will be very 😊 happy with the results.

We are very happy with the service

… by Stairlift Medics. The entire process, starting from getting the estimate, to the measurement of the staircase and then to the actual install of the stairlift was very smooth and uncomplicated. Doug, the owner, heard and addressed all our questions and concerns.

Absolutely amazing experience

We ordered a brand new chair lift with installation. The installation was fast and secure. The installer (Doug) was extremely knowledgeable. As well as compassionate and polite. Again, everything about our experience from start to finish was amazing. We would highly recommend to anyone in need of these services!

My sister needed repairs on stairlift

… and the first place quoted her an outrageous price just to walk in the home. Luckily she found Stairlift Medics and not only was she given a dramatically lower quote but she got great professional service quickly and efficiently. I will definitely keep them in mind for future needs!

Excellent experience from the first meeting

… for an estimate. Great communication. Installation went well; skilled and friendly workers. Would highly recommend Doug and team!

My experience working with Stairlift Medics

… is nothing short of positive! Always friendly, accommodating, flexible, willing to meet the needs of the clients they serve. I would highly recommend!

Doug came out on Labor Day

… to fix our stairlift. He was courteous and efficient, fixing the problem quickly.

Doug was amazing to deal with

I had a problem with my stairlift on the weekend and he came out the next morning to fix it. I highly recommend Doug and his team!

Doug was extremely knowledgeable

… and we had confidence from start in his expertise. It was a pleasure doing business with him.

For fast service at a reasonable price

I highly recommend calling Stairlift Medics of Baltimore. Another competitor quoted me a price that was 3 times the amount I paid for this job. Overall I was very happy with this company.

We had a chairlift installed by Doug & Clive

They did a great job. We are very pleased with this company & their service.

Fantastic!! These guys were knowledgeable

… professional and punctual. They came when they said they would and resolved my problem quickly. I'm very happy with the service and I'd recommend them to anyone.

Honest company to work with. Install went seamlessly. It is a game changer for our home.

I gave Stairlift Medic an "A" grade all the way!!!

The device is extremely easy to use and has many safety features! The install team was very professional and they took enough time to train my in-laws on proper, safe use. 90 minutes in and out!

Doug was professional and fast!

He really came through for my family. Both my parents needed immediate assistance with the stairs. Doug was literally there the next afternoon to install the chair lift. He also came back when we called when we were having an issue. He just left the house and the chair has been adjusted. Thank you Lord for all the miracles you have blessed my family with this week. God Bless you Doug.

Called on Saturday, had stairlift installed Monday

Took about an hour to install. Service was absolutely perfect. Would recommend Doug and his crew to anyone needing this service.

My aunt's stairlift stopped working the other day.

She's in her late 80s, and shouldn't be walking the stairs, so it was important for me to get this fixed for her fast. One call, and Doug (Stairlift Medics) was on the way. He knew right away what to do to get the stairlift repaired. He got things done faster than expected. I feel better knowing my aunt won't have to walk the stairs. Thank you Doug for your professional and friendly nature and making our day!

Elan Straight Stairlift SRE-3050 was just installed

… in under two hours. The Bruno Installer was Stairlift Medics and they service Baltimore, DC, Philadelphia and Richmond. Doug and his helper did a great job for us. I'm 53, recently fell and broke my tibia and tore my meniscus, so it will take several months to get back on two legs. The chair lift is quiet and beeps when starting to move. It stops if anything is on the stairs like my two cavachons, Puff and Luna – they love a ride in the chair too! The prices are very reasonable.

About two weeks ago, I realized that the stair lift

… in my parent's home was not working. The paramedics had to remove part of stair lift to get my dad to the ambulance. I knew that once he returned home, the lift would be needed. I called for service with hopes that the old lift could be put back together and within 4 hours, Doug Kober and his assistant were at my parent's home. They had not installed the original stair lift but were very familiar with the brand and the specifics about its function. They did reassemble what the paramedics had dismantled but …

My mom nearly fell down the stairs last night. I called him and he came out in the snow and ice to install the stair lift. What a guy! Wonderful job! We were so lucky to find him!!

I called for service of a previously installed stairlift

… and got next day service. Friendly service with a smile. The repair was complete and suggestions to better equipment were explained and offered. I was very satisfied.

Stairlift Medics offered exactly what we needed

… when we needed it at a reasonable price. I highly recommend Doug and his company.

Doug and his team were awesome.

They came out right away and solved a tricky installation in a smart way.

… Doug answered all my questions.

They care about their customers. They are very competent and did a great job.

Doug has been a blessing for us more than once.

I appreciate his warning us before he blasted the noisy drill?. He is all about customer service. He wears a mask while working at our home. Thank you for the great stair lift. My life is easier and safer. Happy holidays.
Read More Reviews
Brands we service include, and are not limited to:








Our BLOG
5 signs you need to hire expert chair lift repair services
5 reasons to get Acorn stairlift repair by experts Acorn …
6 reasons to hire professionals for Bruno stairlift repair Hiring …