Bruno Elan 3000 Stairlift in Frederick, Hagerstown, Washington D.C., and Nearby Cities
5 benefits of getting Bruno Elan 3000 stairlift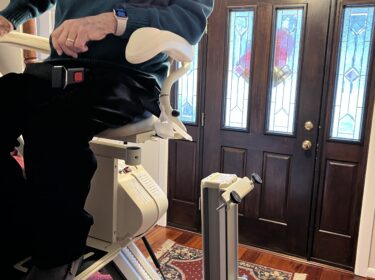 Installing a Bruno Elan 3000 stairlift can provide several benefits for individuals with mobility challenges. Stairlift Medics provides Bruno Elan 3000 stairlift in Frederick, MD, Springfield, MD, Washington D.C., Hagerstown, MD, Annapolis, MD.
Here are five advantages of getting a Bruno Elan 3000 stairlift:
Increased Accessibility: The primary benefit of a Bruno Elan 3000 stairlift is that it enhances accessibility in the home. It allows individuals with mobility issues to move freely between different floors without the need to climb stairs, reducing the risk of falls and accidents.

Independence and Freedom: With a stairlift, individuals can regain their independence and freedom to move around their homes without relying on assistance from others. They can easily access upper floors and maintain their active lifestyle without limitations.

Safety and Fall Prevention: Stairs can be hazardous for individuals with limited mobility, especially for the elderly or those with physical disabilities. The Bruno Elan 3000 stairlift provides a safe and secure means of traversing stairs, reducing the risk of falls and injuries. The stairlift comes equipped with safety features such as seatbelts, safety sensors, and smooth start-stop motion.

Comfort and Convenience: Bruno Elan 3000 stairlifts are designed with user comfort in mind. They feature a padded seat and backrest, adjustable armrests, and a footrest, ensuring a comfortable and ergonomic seating position during the ride. The stairlifts are also easy to operate, with intuitive controls and a smooth, quiet operation.

Home Adaptability: The Bruno Elan 3000 stairlift is versatile and can be installed in various types of staircases, including straight and curved stairs. It is designed to fit seamlessly into the home environment without major modifications, preserving the aesthetics of the house. The stairlift can be customized to suit specific needs, and its compact design ensures minimal obstruction to other stair users.
Please note that while these benefits are generally associated with stairlifts, it's important to consult with a professional and evaluate your specific requirements to determine if the Bruno Elan 3000 stairlift is the right solution for you. Please call us without any hesitation.