5 benefits of getting Bruno Elan stairlift
The Bruno Elan stairlift is a popular mobility solution designed to assist individuals with navigating stairs in their homes. Stairlift Medics provides Bruno Elan stairlift in and around Springfield, MD, Washington D.C., Annapolis, MD, Hagerstown, MD, Frederick, MD.
Here are five benefits of getting a Bruno Elan stairlift: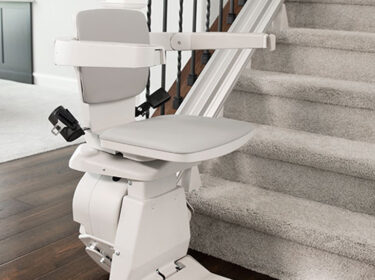 Enhanced Mobility and Independence: One of the primary benefits of the Bruno Elan stairlift is that it provides increased mobility and independence for individuals who have difficulty climbing stairs due to age, injury, or mobility impairments. It allows users to easily move between different levels of their homes without relying on assistance from others.
Safety: Staircases can be hazardous for individuals with limited mobility. The Bruno Elan stairlift is equipped with safety features such as seat belts, obstruction sensors, and swivel seats to ensure a secure and comfortable ride. These features help prevent accidents and provide peace of mind for both users and their caregivers.
Customization and Fit: The Bruno Elan stairlift can be customized to fit various types of staircases, including straight, curved, or even outdoor stairs. Its modular design allows for flexibility in installation, ensuring that the stairlift suits the specific layout of your home.
Space-Saving Design: The Bruno Elan stairlift is designed to be space-efficient. When not in use, the seat and footrest can be folded up, allowing other family members to use the stairs comfortably. This design also helps maintain the aesthetics of your home without significant modifications.
Easy Installation: The installation process for the Bruno Elan stairlift is relatively straightforward. Professional technicians can install the stairlift with minimal disruption to your home. This quick installation process means you can start benefiting from the stairlift's convenience and assistance sooner.
Remember that the suitability of a Bruno Elan stairlift depends on individual needs and the specific layout of your home. Before making a decision, it's advisable to consult with a mobility expert or a professional who can assess your requirements and recommend the best solution for your situation. Please call us without any hesitation.