When you are looking at a stairlift for your home in Baltimore, Damascus, Frederick, Silver Spring, or Upper Marlboro, you want to know that you have an experienced installation team, as well as a quality product that won't break down shortly after it is installed. You need to call Stairlift Medics who will come out to your house to help repair your stairlift no matter what model it is or will provide installation of your new or used stairlift in your home. And they have Bruno stairlift for sale for both outdoor and indoor installation.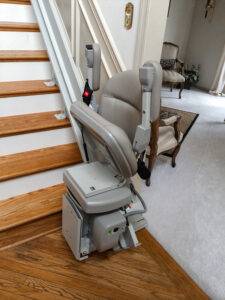 New Bruno Stairlifts
When you are looking for a new stairlift for your home, Stairlift Medics offers Bruno stairlift for sale. Why do they offer Bruno as the stairlift of choice? There are several reasons why, and one of the most important is that they carry a lifetime warranty. Not only that, but Bruno stairlifts are made in America. Bruno stairlifts offer the narrowest design in the industry, as well as the best prices for a stairlift that is professionally installed. Bruno stairlifts feature weight capacities of up to 400 pounds, have very sturdy rack and pinion gearing, and are battery powered so that they will work even if the power goes out.
It doesn't matter if you have a nice straight staircase or if you have a change of direction on your stairs, Bruno stairlifts can navigate them all. And the stairs can still be used by others in the normal fashion as well. When you are looking at a Bruno stairlift for sale, call Stairlift Medics for details and professional installation.
Used Bruno Stairlifts
When you are looking at a Bruno stairlift for sale, you might notice that some of them have been used before. This might bring up questions of why would you purchase a used stairlift, and this is natural, but there are several reasons why there are used stairlifts available. In some cases, the use of a stairlift might only be for a short period of time, such as several months while someone is rehabilitating from surgery and cannot use the stairs. In other cases, people opt to have a stairlift installed in their home, but then they move and the new owners want to have the stairlift removed, but there is nothing wrong with the stairlift. When you opt for a used Bruno stairlift for sale in Baltimore, Damascus, Frederick, Silver Spring, or Upper Marlboro, you still get two years of a warranty on parts and labor. Bruno stairlifts are what Stairlift Medics choose to represent because they are the best made stairlifts that will likely only need to have the battery changed out in the future.