Bruno Stairlift for Sale, Bruno Stairlift Repair, and Chairlift Installation in Frederick, MD
If you need a stairlift and are considering a Bruno stairlift installation in Frederick, MD, give us a call. Stairlift Medics has over 30 years of experience serving the Frederick area and offers repair, maintenance, and installation services for Bruno stairlifts.
A stairlift not only helps you get around your home but can provide an additional sense of freedom and mobility. Our expert technicians can get you outfitted with a chairlift and have it operating smoothly as soon as possible. We take a personalized approach to our stairlift services and work with customers to find solutions sensitive to their needs and budgets. 
You can count on our experts to provide reliable service at an affordable price. Contact us today to receive a free quote!

For Service, Repairs, & Installation
Contact us today to receive a no-hassle price quote!
Bruno Stairlift Installation and Repair in Frederick
We are the area's leading expert and provider of Bruno-brand stairlift and chairlift installation.
Bruno products are a national favorite due to their reliablity, and we provide Bruno stairlift repair and stairlift maintenance services. Our catalog of products includes the Bruno Elan stairlift and the Bruno Elite stairlift. 
We also offer custom installation services in Frederick, MD. So if you have a curved staircase, we can create a custom track for your chairlift model. Our safe and dependable products have maximum weight capacities of over 300 pounds, and we offer outdoor Bruno chair lifts that can withstand 125 degrees F.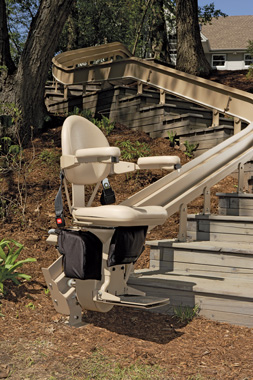 Stairlift Company serving Frederick, Maryland
When you work with us, you are working with a reliable stairlift repair and maintenance company you can trust. We pride ourselves on our honest, transparent pricing, and we never cut corners with our quality of service.
Proudly Serving Frederick, MD
We understand that when it comes to home installation, professionalism is the most important feature. We show up at the scheduled time, excited to answer all your questions and guide you through the installation process. Our level of service is second to none in the Frederick area.
Located in the Baltimore-Washington metro area, Frederick, MD, is a major intersection between the northern and southern US and has a long history dating back to the early 1700s. Frederick is home to a nationally famous historic district and features a booming economy with growing tech and medical sectors. Frederick is a beautiful city to raise a family and put down roots.
Contact Stairlift Medics online today to schedule Bruno stairlift repair or installation in Frederick, MD!
Contact us today to receive a no-hassle price quote!