Do you have mobility restrictions or do you know someone at home who is suffering from this? There are various reasons for which you could be restricted from movement, right from back pain, knee ache, or ankle sprain too even cardiac arrests. In such a scenario, you should try to make some arrangement which will help you move about without causing any stress to your body. One such a equipment that you should install in your house is a stair lift. It allows you to easily move up and down the stairs without causing any in Judy. We, at Stairlift Medics, can be the right choice for you. We are an established and reliable company which has been in this field for more than 30 years. We bring you a wide variety of stairlifts and chairlifts from a wide range of brands. We also offered you Acorn, Sterling, or Bruno stairlift repair and installation work. So, if you are from Fairfax, VA, Gaithersburg, MD, Rockville, MD, Frederick, Upper Marlboro, or Silver Spring, then you can opt for us.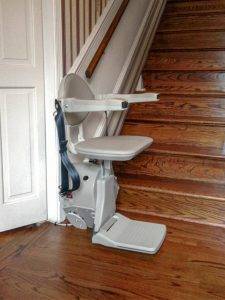 Here, we have put together a few reasons to always hire a professional for your Bruno stairlift repair. Take a look.
One of the primary reasons why you should always get a professional to repair your stairlift is because they have the right kind of knowledge and training in this regard. They will be able to provide you with an effective repair work so that it does not get dysfunctional again.
Another primary reason why you should opt for a professional is because they can save your money. If you hire an amateur, they will not be able to provide you with a proper service for which you will have to hire again. Moreover, if they cause any damage to the stairlift, you will have to replace it to. These expenses unnecessarily can be prevented if you go for a professional from the beginning.
So, if you are thinking of choosing us, contact us today.