Chairlift Installation, Stairlift Installation, and Bruno Stairlift for Sale in Washington, D.C.
Stairlift Medics is your local stairlift installation expert in Washington, DC. We understand that between the importance of finding the perfect chair lift for your home and the wide variety of stairlifts and stair chair providers available, finding the right product can be daunting. However, with our experience as the eastern United States' best chairlift installation team, we've learned how to perfectly set up products our clients love and count on for a lifetime.
You can always trust Stairlift Medics to provide the best for your home in Maryland, Virginia, Pennsylvania, Delaware, and Washington, DC. Not just because we offer stellar products but because our installation experts have over 30 years of experience with stair lift service.
We are committed to helping you at every step, from guiding you through the options and helping you decide which is best to offering you quality stairlift installation services that will help ease mobility access in your Washington DC, home.
At Stairlift Medics, we specialize in providing Washington DC, residents with Bruno stairlifts. Why Bruno stairlifts? Because of their reliability, usability, various model options, and different stairway configurations. Some of the options we can offer you include Elan, Elite, and Curved. Wondering which option is best for your family and home? Reach out to us today. Our team is always ready to help. We are happy to come to your home and give you a free estimate.
Work with Stairlift Medics and find out why we are the leading provider of Bruno stairlifts and chairlift installation services in Washington, D.C. 
For Service, Repairs, & Installation
Contact us today to receive a no-hassle price quote!
Stairlift Installation for Washington D.C.
Besides providing you with Bruno stairlifts for sale, we can also offer professional stairlift installation services in Washington D.C. Stairlift Medics has had a local presence in the Maryland area for 30 years, helping residents with their stairlift needs, including curved stairlifts.
The following are some of the benefits of working with us:
Qualified technicians
Reliable and quick, same-day services
Comprehensive services for stairlifts, including sales, installations, and repairs
Getting a stairlift installed can be life-changing in a positive way. Make the experience positive from start to finish by working with the leading stairlift installation provider serving Washington DC. Contact Stairlift Medics today.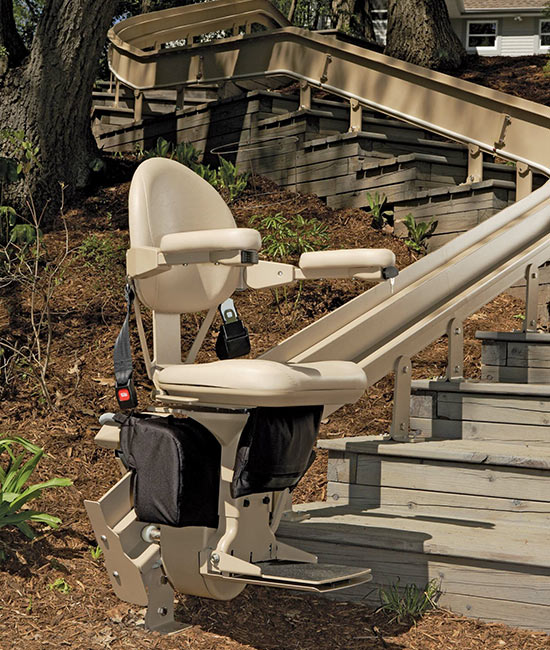 Bruno Stairlift for Sale in Washington, DC
Bruno manufactures the most comfortable and reliable stair chairs in the country, and Stairlift Medics is the leading provider of these chairs in the Mid-Atlantic states. Our stairlift catalog includes straight stair lifts for straightforward staircases and curved stair lifts for curved stairs, all made by a company that builds all its products in the United States. We'll have a Bruno stairlift for sale no matter what you need.
However, Stairlift Medics isn't just the area's leading provider of Bruno stair chairs; we're also the best stairlift installation team. We know that stair chair installation instructions can be overwhelming for ordinary people, but our chairlift installation team will take the confusion off your hands. In addition, our service is fast and accurate, so you'll instantly get your new chair lift and have years of reliable transportation.
Our stair lifts can be installed inside or out and on any staircase so that you can get around your home comfortably, no matter what obstacles are in the way. We also provide stellar stairlift maintenance so that your chair continues running smoothly and getting you where you need to go.
Washington, DC, is the political capital of the world and attracts nearly 20 million visitors yearly because of that status. However, Washington DC is just as popular to live in as it is to visit, with 689,545 citizens combining to make it the 20th-most populated city in the United States. It's one of America's oldest cities, but it's still growing in popularity.
Washington, DC, residents want the best for their homes, and stairlift installation from Stairlift Medics is the best way to provide it. Contact our team today to schedule an appointment.
Washington, D.C. is located on the Potomac River, bordering Maryland and Virginia. It's well known for its historical monuments and buildings – including the Capitol, White House, and the Supreme Court. Over 700,000 residents call the capital home, and even more live just outside in neighboring communities such as Alexandria, Silver Spring, Fairfax, and Upper Marlboro.
Stairlift Installation Services
Stairlift Medics offers:
Competitive pricing
Lifetime extended warranties
Rapid response times
Trucks stocked with replacement parts
Experienced technicians
Contact us today for a quick and easy chairlift installation for your home in Washington, DC or the surrounding areas. We are here for you!
Contact us today to receive a no-hassle price quote!