Emergency Stairlift Repairs in Baltimore, Gaithersburg, Annapolis, Rockville, Silver Spring, MD, Arlington, VA, Philadelphia, PA, and the Surrounding Areas
For Emergency Stairlift Service, Repairs, & Installation
Emergency Stairlift Repairs in Baltimore, Gaithersburg, Annapolis, Rockville, Silver Spring, MD, Arlington, VA, Philadelphia, PA, and the Surrounding Areas
Emergency Repair Services
We understand that many people rely on their stairlifts every day, which is why we provide reliable emergency stairlift repair in Baltimore, Gaithersburg, Annapolis, Rockville, Silver Spring, MD, and the surrounding area when the worst happens.
With extensive knowledge in the industry and thousands of clients served, you can trust our team to repair and maintain your stairlift and restore your independence.
Some of the things that may need checking are:
Armrest & footrest sensors
Battery disconnect switch
Error codes
Key switch
Power supply
If you see an error code, please make a note of it when calling us.
A good practice is to check and tighten any loose screws or nuts.
Stairlifts are sophisticated machines designed to provide comfortable transport up and down inclines, but they are not immune to the occasional problem. If you want to keep yours working properly all year round, you can look to our experts at Stairlift Medics.
You may have noticed that your stairlift is beeping, or seems to be struggling going up. Any strange noise can be a sign of trouble. These indications may mean that your stairlift could be in need of service as soon as possible.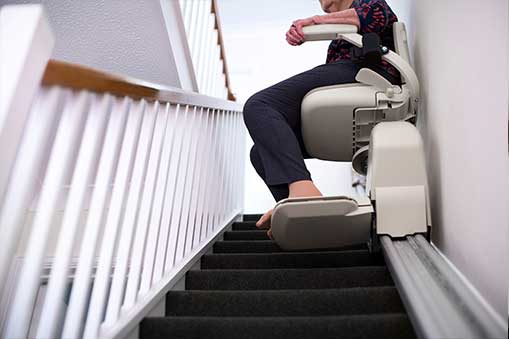 Stairlift Maintenance & Repair
When you need stairlift repairs done ASAP, call us right away!
In Need of Emergency Stairlift Repair?
We have been installing and repairing stairlifts since 1993 and understand the difficulties and challenges that arise when your stairlift isn't working properly.  Stairlift Medics grew out of a family medical supply store where one of the founders had a severe disability and relied on a stairlift to access his home.  We understood and understand the necessity of quick responses and quick turnaround times to help keep your home accessible at all times.
Because we care about our clients, we answer our phones and offer fast service for repairs. Use our Contact Us Form to send us a photo of your model # and/or issue.
If you're interested in learning more about fixing or maintaining your stairlift, give us a call at 800-695-6339. We serve Baltimore, MD, Arlington, VA, Philadelphia, PA, and all the surrounding areas.
Top 10 Warning Signs That Your Stairlift Needs Service Right Away
Do you know when your stairlift is going to breakdown?
Things like this always happen at the worst of times. A broken stairlift can be a significant issue if it keeps you from an area of the home that you need to access. But how do you know what minor issues are on the verge of becoming major issues?
We have compiled the top 10 most common warning signs you can look out for.