Harmar's programmed and mechanical collapsing rail removes deterrents and excursion threats. Its action is pre-programmed, so the customer does not need to stop or ask for assistance. There are no extra switches or controls because it's mechanical. Because Harmar's framework is unique, replacement parts must be purchased from the company, and Harmar stairlift repair must also be conducted by its professionals, to minimize the risk of harm and remain covered by the company's warranty. Due to harsh conditions, heavy use, or simply average mileage, its durability may decrease but when Harmar stairlift repair is done on regular basis, it can prevent those damages. At Stairlift Medics we offer a large number of Harmar stairlift parts, so we can usually have your stairlift back up and running the same day. Our technicians can arrive at your home with a large number of the parts needed for a standard Harmar stairlift repair.
Let us look at some of the reasons why you should choose us for Harmar stairlift repair: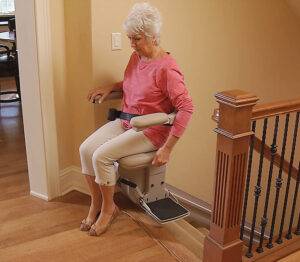 We keep a wide supply of parts on hand for a variety of Harmar stairlift repairs and services.
We are considerate and well-mannered.
Stairlift Medics' trained technicians have a lot of experience with Harmar stairlift repair and Harmar stairlift maintenance
We know exactly how to fix the problem because we have an extensive understanding of the Harmar stairlift system.
We have a large number of parts in stock at Stairlift Medics for a variety of Harmar stairlift repairs and administration.
We are cost-effective and budget-friendly.
Our team can get to your location in no time.
If you are looking for a Harmar stairlift, we can be the right choice for you if you belong to Arlington, VA, Rockville, MD, Bowie, MD, Bel Air, MD, Springfield, VA, and Vienna, VA areas. Contact us at 800-695-6339 now!