Handicare stairlifts have been around for decades and they are a well-known brand all over the United States. If you already have a stairlift in your home in Baltimore, Damascus, Frederick, Silver Spring, or Upper Marlboro, yours might even be a Handicare stairlift. Stairlift Medics are experienced in both installations as well as repairs and can handle any repairs that might be needed with your Handicare stairlift. Give them a call if your stairlift isn't working like it should and one of the experienced technicians will come out to inspect and repair your Handicare stairlift. It doesn't matter if it is an indoor model or an outdoor model, curved or straight, Stairlift Medics can handle them all.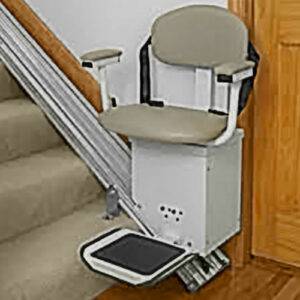 Diagnosing Common Issues With Stairlifts
Sometimes your stairlift doesn't want to work how and when you expect it to. While there might be a major issue with your stairlift, it is important to go through a number of things to check to be sure they are as they should be for the stairlift to operate. One such thing to check for is the key switch and to ensure that the key is positioned correctly to allow the stairlift to operate. Another thing to check for is that the seat is swiveled back to the correct position. If the seat isn't positioned properly, the stairlift won't operate. Along with the seat being in the correct position, be sure the arms of the seat are also down. Leaving the arms up will prevent the stairlift from operating as this is a safety feature.
It's also a good idea to periodically look at the path of the stairlift to check for obstructions. Perhaps a shoe or a stuffed animal toy is in the way. This could cause the stairlift to cease functioning until it is removed. You should also check that the stairlift is getting power. Usually, there are lights that would indicate if the stairlift is getting power. If the lights are lit up, you should check the outlet to be sure that power is getting to the outlet. If not, then you know there is a problem either with the outlet or with the circuit. If there is power to the outlet, then there is an issue with your stairlift and should be looked at by a technician.
You may also hear some beeping from your stairlift, or there may be error codes that are showing up. It is important to review the owner's manual to help determine what those codes might mean. As you can see, there are a number of things that you can do yourself to help diagnose small issues with your stairlift in Baltimore, Damascus, Frederick, Silver Spring, or Upper Marlboro and keep it in working order.