Do you have a stairlift at home? Many people these days are suffering from backache, knee pain, or ankle sprain. This might have lead to certain mobility restrictions for them. Sometimes even a cardiac arrest can impose mobility restrictions. And that is why many people are opting for a stairlift in order to ensure free movement up and down the stairs without causing any stress on the injured area.  But after all, it is a machine and it will give away. You just have to hire a good repair service to get it functioning again. We, at Stairlift Medics, can be the right choice for you. We are an established and reliable company with more than 30 years in this field. We can also help you with several Kinds of Bruno, Acorn, and Sterling, or even a Handicare stairlift repair service.  We are known for our state-of-the-art technology which enables us to provide such advanced level solutions. So, if you are located in areas like Baltimore, Bel Air, MD, Frederick, Silver Spring, Upper Marlboro, or Damascus, MD, then you can choose us.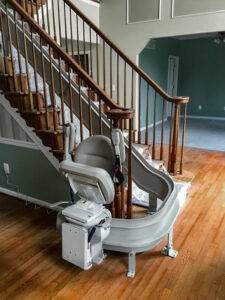 Here, we have put together a few questions to ask your Handicare stairlift repair service. Take a look.
What are your timings for repair?
You have to plan your schedule for the day according to the repair service. You should want to stay when the repair work is done. And since this is an urgent requirement, you never know when you might need them and would want to get it repaired as quickly as possible. That is why it is important to know about the timings for the repair service.
Do you offer free quotes?
If you can get an estimated rate for the repair service, it becomes easier for you but causes you can understand if it is suitable for your budget or not. You can also use these codes to compare it with others and then choose the one that seems the cheapest according to you.
So, if you're thinking of choosing us, contact us today.