The Harmar SL300 stairlift is a good buy at a fair price. It is very small, runs smoothly, and doesn't need much upkeep (100% compatible with your decor). You can rest easy knowing that the Harmar SL300 stairlift's powerful motor provides extended performance up to 40 up-and-down trips even when power is lost. The smallest of the stairs lifts, and Pinnacle folds closer to the wall so that other people can easily pass through it. Harmar's SL300 stairlift gives you the freedom to confidently ascend and descend stairs as many times as you need to. 
Let us look at the key benefits of installing the Harmar SL300 stairlift:  
There are a lot of features on this affordable Harmar stair lift, like a swivel seat for comfort and safety sensors that stop the lift in its tracks if it comes into contact with something. In addition, the Harmar SL300 Pinnacle stair lift does not require lubrication for its gears, and even in the event of a power outage, it can make up to 40 trips up and down the stairs.
In most cases, the stair lift needs to be plugged in frequently to charge, which can be a challenge for first-time buyers who are unfamiliar with them. However, even during a prolonged power outage, the Harmar Pinnacle series can still be used. Its small size means that it won't take up a lot of space near your stairs or in your stairwell, and the comfortable seating makes it safe to go up and down your stairs.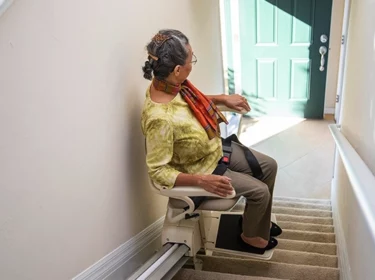 Stairlift Medics right away to learn more about the Harmar SL300 Pinnacle stair lift and the Harmar SL600 Pinnacle premium stair lift, as well as other mobility products that can assist the elderly or disabled. We want patients and caregivers to have the best possible lives possible. Contact us if you reside around Frederick, MD, Washington D.C, Springfield, MD, Annapolis, MD, Hagerstown, and MD areas.