Harmar SL600 stairlift is slightly slimmer when folded, providing an additional 1/2 inch of clearance to help prevent issues with door jambs. The Harmar SL600 stairlift is slightly more robust and can support up to 350 pounds. In addition to the standard footrest sensors, it has additional chassis obstruction sensors that ensure the chair stops in the event of a track obstruction. In addition, the limited lifetime warranty that the Harmar SL600 stairlift provides is superior to the SL300's two-year parts warranty. 
Let us look at the key features of using the Harmar SL600 stairlift:  
The Harmar SL600 Pinnacle Premium Stairlift has a seat that is wide enough to be comfortable, and it can swivel, which makes it easier to mount and unmount the stair lift safely. The premium model, like its sibling, is equipped with sensors that will turn off the chair in the event of an obstruction.

 
 It has an energy-efficient patented helical worm drive.

 
It is easy to install and maintain.

 
The Patented Folding Rail option removes obstruction at the base of the stairs (optional).

 
It is powerful enough to travel up to a 52-degree incline.

 
It comes with two wireless remotes; there are additional seat colours available; and it does not require lubrication. Additionally, it has the same patented helical worm In the event of a power outage, the SL600 model can also travel for up to 40 trips.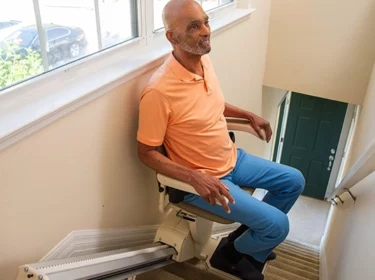 To find out more about the Harmar SL300 Pinnacle stair lift or the Harmar SL600 Pinnacle premium stair lift, or to learn more about other mobility products that can help someone who is elderly or disabled, contact Stairlifts Medics We want both patients and their caregivers to be able to live their best lives. Contact us if you reside around Frederick, MD, Washington D.C, Annapolis, Hagerstown, and MD areas.