Are you facing any kind of damage to your stairlifts? Are they giving any trouble while starting or while operating? If you notice the slightest discomfort in your stairlifts, you should immediately get it checked. You must remember that these are used by people who do not have any control over their injured areas and any kind of glitch in the stairlift can lead to fatal accidents as well. You must first look out for the right company which can help you with these kinds of repair services. We, at Stairlift Medics, can be the right choice for Acorn, Bruno, and Harmar stairlift repair services. We are one of the most established and reliable companies which have been in this business for over 30 years. Right from sales to installation as well as repair and maintenance, we can help you with all kinds of stairlift services. We are known for our great durability, amazing features, and our customer-oriented approach. So, if you are located in areas like Arlington, VA, Rockville, MD, Bowie, MD, Bel Air, MD, Springfield, VA, or Vienna, VA, then you can opt for us.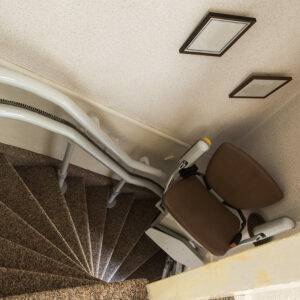 Here, we have put together a few questions to ask your Harmar stairlift repair service before making a choice. Take a look.
How much time will it take to complete the repair work?
As you must already know, the stairlift is an immensely useful device that you will need constantly. You would want the repair work to be completed as soon as possible and until then, you must want to make some sort of an arrangement. In order to know the kind of arrangement you should be making until the stairlift is getting repaired, you have to ask about an estimated duration within which the stairlift will be ready.
Can you provide free quotes?
The next thing you should ask the company is about the charges they will take for carrying out the repair services. If you get estimated rates, it will be easier for you to understand if the company is affordable or not. Matched with the budget you have in mind and then take the decision.
So, after getting these answers, if you are planning to hire us, contact us today