Do you have mobility restrictions? Or do you have a family member at home who has some kind of knee pain, backache, ankle pain, or any other issue which causes difficulty in their movement? Sometimes, due to cardiac arrest, you might also face these kinds of restrictions in movement. What needs to be done in such a scenario is to get a stairlift or chairlift at home. But what if the stairlift cannot function anymore? Due to regular wear and tear, sometimes you might notice signs of damage in your stairlift. You must look for a professional company to help you with these kinds of repairs. We, at Stairlift Medics, can be the right choice for you. Be it Bruno, Acorn, or Harmar stairlift repair or installation, we can help you with everything. We are an established and reliable company with more than 30 years in this field add unknown for a state of the art technology. So, if you belong to areas such as Fairfax, VA, Baltimore, Silver Spring, Upper Marlboro, Damascus, MD, or Bel Air, MD, then you can rely on us.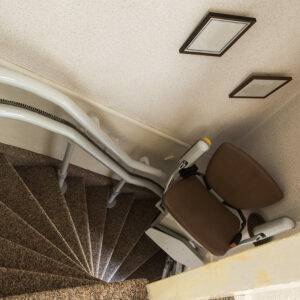 Here, we have put together a few factors to keep in mind while choosing a stairlift repair service. Take a look.
One of the first and foremost things that you need to look out for while choosing a stairlift repair service would be the number of years they have been in this field. Experience shows credibility. It means that the company must be providing a good quality service for so long which has made them survive for years.
Next, you have to keep in mind that the professionals you are hiring have the right kind of knowledge and expertise in this matter. They should have dealt with such repairs in the past to have the kind of expertise and training on how to detect the issue and provide a possible solution.
So, if you think we can be the right option for you, contact us today.