If you've come to our website, welcome! We're glad that you are looking at Stairlift Medics to help you remain safely in the home you love. We've been helping many homeowners in Springfield find the right stairlift installation for them and their families for many years.
We are a full-service stairlift dealer and installer. As professionals, we take every aspect of stairlift installation seriously and have been doing so for 30 years. Occasionally we run into customers would are interested in installing their stairlifts themselves. We always recommend doing comprehensive research on what is involved with installing a stairlift before deciding to do a chairlift installation yourself. After all, you depend on your stairlift to safely move members of your family without causing harm or causing damage to your home. Think of everything that will need to be done as correctly as possible – the location on the stair landings, proper electrical hook-ups, precision and balance, and more. Also, are you willing to risk the warranty if your stairlift installation isn't done correctly or isn't installed by the right stairlift installer? You're getting your stairlift so you can remain in your home. Make sure you have it correctly installed so you can do so.
Bruno Stairlift for Sale in Springfield, VA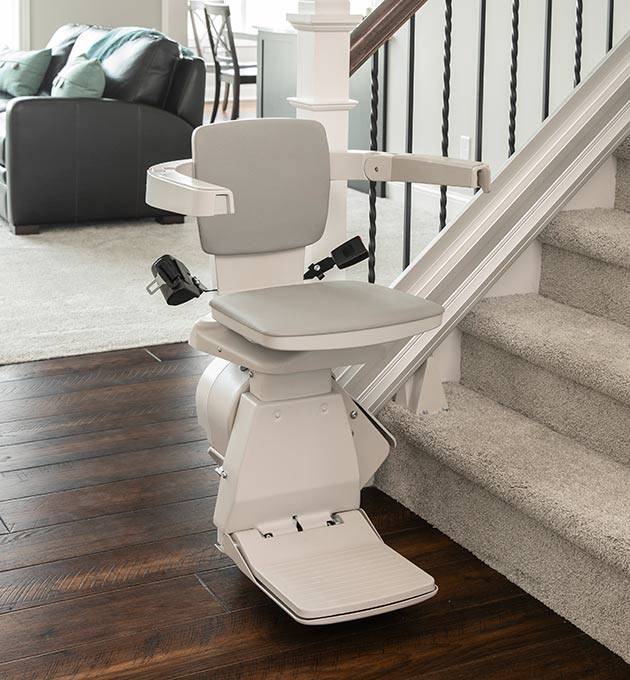 If you have been looking at a Bruno stairlift for sale, Stairlift Medics is the company you want to talk to get your chairlift installation. We can help you find the right Bruno stairlift for sale that will keep you in your home. And Bruno stairlifts are the most popular stairlifts in the country. No matter what type of stairlift you are looking for – heavy-duty, curved, standard, Stairlift Medics is your source.
After you pick out your Bruno Stairlift for sale, our technicians will complete the installation for you. They are fully trained and ready to take on any challenge that comes up with your stairlift installation. Look at the advantages we offer:
Lifetime extended warranty
Rapid response times
Stocked replacement parts
Experienced technician
We also offer competitive pricing, so you know not only are you getting an excellent stairlift installation, but you are also getting great value. We are ready to help you with all your stairlift repair needs. Keep our number handy, and we will get to you as soon as possible.
Chairlift Installation in Springfield, VA
Springfield is only a census-designated place. However, many homes and businesses in nearby areas use Springfield as a mailing address, including North Springfield, West Springfield, and Newington. One fun thing to do in Springfield is to visit the Hidden Pond Nature Center. There are several different events and activities, including a playground and hiking trails.