Do you have an elderly person in your house? Does anyone in your house have trouble taking the stairs? Stairlift Medics have come up with various kinds of stairlift options for all kinds of stairways- straight, curved, narrow, or wide. Before getting a stairlift for your house you should make sure the installation is done by professionals as there are many safety measures that have to be taken while installing the unit. When you choose Stairlift Medics, you will get lifetime warranties, a variety of designs, long battery life of your stairlift, and a sturdy rack. With a capacity of 300 to 400 pounds, our products come at the best market prices. The people of Silver Spring, Upper Marlboro, Baltimore, Damascus, MD, and Frederick trust our products and services and hence we have grown exponentially over the years.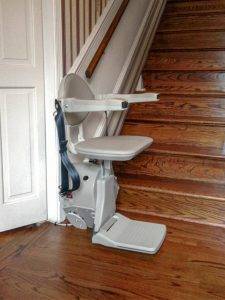 Below we have mentioned a few vital features you should look for in a stair lift. Take a look.
1. Multiple charging points
The battery of your stairlift needs to be charged every now and then. You should have the facility to have charging points at the top of the stairs and the other at the bottom so that the lift can be charged while parked on either of the two places.
2. Fold-up seats, footrests, and armrests
Your stair lift should have the feature of foldable seats so that they do not form a hindrance or an obstacle for other people in the house when they're not in use.
3. Retractable seat belt
It is mandatory for all stairlifts to come with a seat belt. You should opt for a stairlift with a retractable seat belt as they are easier to use and also looks better than the ones that come with loose seat belts.
So, if you are planning to buy a stair lift for your house, you can get in touch with us at 800-695-6339.