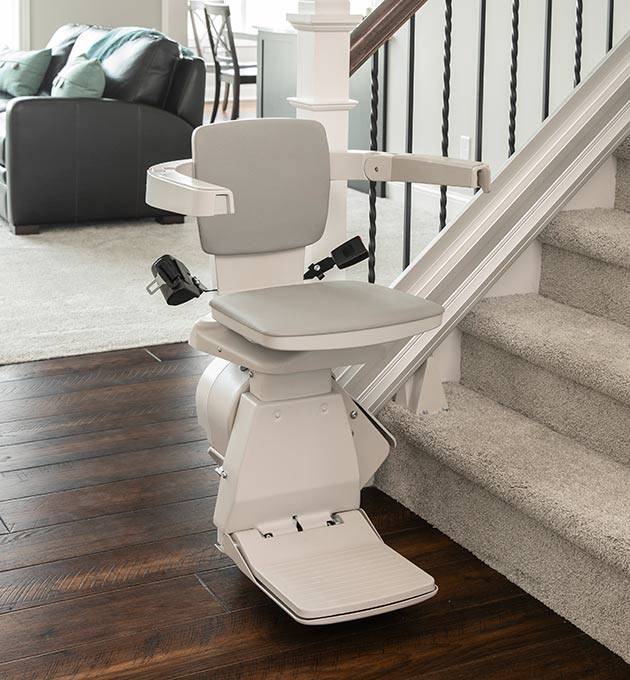 Increase the quality of life in your home by opting for one of the Bruno stairlifts we have on sale. If you desire to 'age in place' but are having trouble navigating the stairs, our solutions can help.
When looking for your first stairlift, we understand how overwhelming the different options and features can be. Fortunately, Stairlift Medics is your local specialist when you need chairlift installation or are trying to find the right Bruno stairlift to purchase.
We are committed to helping you at every step, from guiding you through the options and helping you decide which is best to offering you quality stairlift installation services that will help ease mobility access in your Pasadena, MD, home.
At Stairlift Medics, we specialize in providing Pasadena, MD, residents with Bruno stairlifts. Why Bruno stairlifts? Because of their reliability, usability, various model options, and different stairway configurations.
Some of the options we can offer you include Elan, Elite, and Curved. Wondering which option is best for your family and home? Reach out to us today. Our team is always ready to help. We are happy to come to your home and give you a free estimate.
Work with Stairlift Medics and find out why we are the leading provider of Bruno stairlifts and chairlift installation services in Pasadena, MD. We are committed to helping you find a solution that will enable you to stay in your home safely and comfortably.
Stairlift Installation for Pasadena, MD
Besides providing you with Bruno stairlifts for sale, we can also offer professional stairlift installation services in Pasadena, MD. Stairlift Medics has had a local presence in the Maryland area for 30 years, helping residents with their stairlift needs, including curved stairlifts.
The following are some of the benefits of working with us:
Qualified technicians
Reliable and quick, same-day services
Comprehensive services for stairlifts, including sales, installations, and repairs
Bruno Stairlift for Sale in Pasadena, MD
Situated halfway between Annapolis and Baltimore, Pasadena, MD, is part of Anne Arundel County. The area has plenty of activities you can enjoy. For instance, several local parks provide various recreational facilities like picnic areas, trails, basketball courts, and tennis courts.
Every Pasadena, MD, homeowner wants to install the best medical equipment in their homes. When it comes to stair chairs, Bruno stairlifts are the leading industry choice. If you are looking for a Bruno stairlift to purchase or need chairlift installation in Pasadena, MD, speak to Stairlift Medics today at (866) 951-5107.