Stairlift Installation, Bruno Stairlift for Sale, and Stairlift Repair in Baltimore, MD
Looking for a Bruno stairlift for sale in Baltimore? Or need stairlift repair?
Stairlift Medics is your local authorized dealer and installer for Bruno stairlifts. We also repair and offer maintenance service for all Bruno stairlift models.
We have been selling and installing Bruno stairlifts since the beginning of our 30 years in business. We're proud to represent Bruno because they are made in the USA and have the top-selling stairlift models. Customers have raved about their dependability, quiet and smooth function, and affordable pricing. No matter what you are looking for in a Bruno stairlift for sale, you will find it in one of their top-selling models.
Bruno Elan – America's top selling stairlift. Multiple safety, charging and adjustability features. A great straight stairlift for those looking for a simple and affordable option.
Bruno Elite – Everything offered with the Elan, with more options. Heavy duty capacity, generous seat options and more.
Bruno Elite Curved – the top-selling curved stairlift to accompany landings, curved staircases, and other applications beyond a straight staircase.
Need help deciding between the models?  Call us and we will come throughout the Baltimore area for a free estimate and inspection. We guarantee there is a Bruno Stairlift for sale that will meet your needs and restore your mobility in your home safely and conveniently.
Contact Us for Service in Baltimore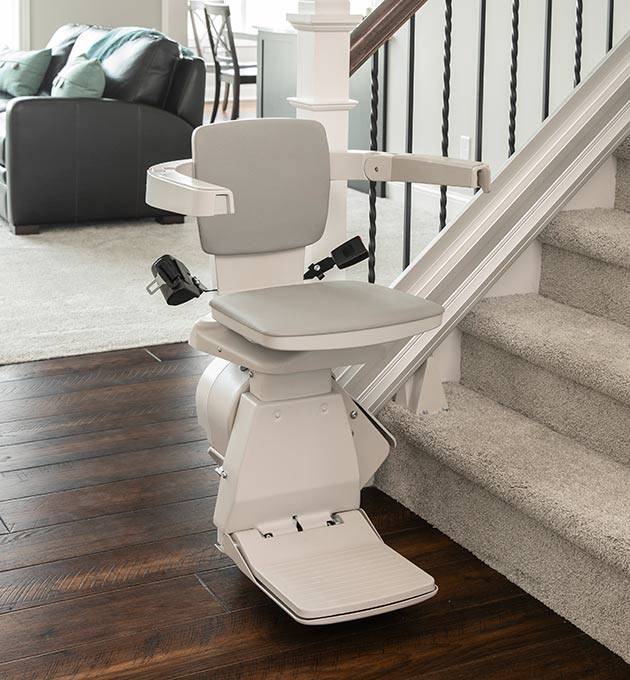 Stairlift and Chairlift Installation for Baltimore Residents
Once you have chosen the right chairlift installation for you and your family, it is time to get your Bruno Stairlift ordered and installed. When your new Bruno Stairlift arrives, you can expect stairlift installation to take about half a day. After installation, we will take the time to go over the proper use with you and all members of your family. We will also give you some simple trouble-shooting tips.
We won't leave until you understand how to safely use your new chairlift installation and answer any questions you have. And by the end of the day, you will be going up and down your stairs with increased safety and freedom.
The only complaint we ever hear is "I wish I had done it sooner!"
Stairlift Repair in Baltimore
Not only are we a stairlift repair company for Bruno Stairlifts, but we do also complete repairs on many other manufacturer brands including:
Some manufacturers include diagnostic codes on their stairlift units that help with troubleshooting and stairlift repair issues. This can help us narrow in on the problem but if your chairlift installation does not include diagnostic codes, don't fear. Not only do we have a stocked warehouse full of common repair parts, but our trained technicians also have experience in all types of repairs so we can often get your stairlift repair completed in one day.
Stairlifts in Baltimore, MD
Most of the houses in Baltimore are 2 story or more. Some newer homes don't even start living areas until the second story as the first floor is the garage. This can limit homeowners with mobility issues in terms of safety and ability to stay in their homes. One in seven Americans are over 65, and this is also true in Baltimore. The cost of installing a Bruno stairlift is not only cheaper than moving but also cheaper than living in an assisted living facility. Contact Stairlift Medics to get started on improving the quality of living in your Baltimore home.
Contact us today to receive a no-hassle price quote!