It might be tempting to install that stairlift yourself, but don't be fooled by the simple looking stairlift. There are many problems that could arise during the installation and operational checks that would be beyond your skill set to diagnose and correct. It is definitely worth it to have professionals from Stairlift Medics come to install your stairlift and show you how to operate it. This way you can be sure that it is installed correctly and will provide you years of successful service.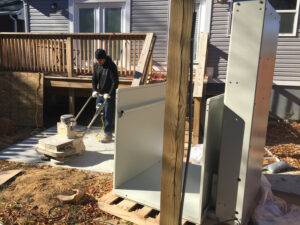 Outdoor Stairlift Installation
While most of the time we think of stairlifts for the indoor stairs in the home, there are stairlifts that also are able to be installed and used in the outdoors. What is important to keep in mind is that outdoor stairlifts could be installed indoors, but indoor stairlifts should never be installed outdoors. This is because the outdoor stairlifts are designed to withstand the elements, and indoor stairlifts do not have to contend with these issues. Marine grade components are used for outdoor stairlift installations because they are needed, where indoor stairlifts will not encounter these situations.
Stairlift Installation – Relocation
You may have had a stairlift installed in your home several years ago, but now you are relocating to a smaller home that still has stairs. Or perhaps your elderly parent is coming to live with you, and you want to relocate their stairlift into your home to provide them a familiar, more comfortable way to use your stairs. No matter what the situation is, having your stairlift relocated is something that happens all the time in Baltimore, Damascus, Frederick, Silver Spring, and Upper Marlboro, and Stairlift Medics will ensure that your stairlift will be properly reinstalled where you need it.
Temporary Stairlift Installations
Yes, there are reasons why someone would want to have a temporary installation of a stairlift in their home. For example, you might want to make it easier for your parents to remain in the home that they've had for decades. Everyone might not be sure that a stairlift is the right answer, but having a rental or temporary installation would be a great trial to see if it would be a good solution. Another scenario involves a member of your household that is having surgery that would prevent them from using the stairs. If their normal bedroom is upstairs, that would mean that they would need to have a temporary bedroom set up elsewhere in the home. This could pose a number of other problems, and you may just want things to remain relatively similar during recovery. Having a temporary installation of a stairlift would provide a way to do that. And if you find that you enjoy having the stairlift in your Baltimore, Damascus, Frederick, Silver Spring, or Upper Marlboro home, you can leave it there and purchase it.