Maintenance is an important aspect of a machine's upkeep, just like it is for anything with moving parts. Because stairlifts services are made up of moving components that wear down over time, they are no exception. To keep your stairlift in good operating order, it must be serviced regularly. While some firms make you wait for service, Stairlift Medics will have your stairlift up and running in no time. We provide service on all major brands of stairlifts, including Acorn, Bruno, Sterling, Harmar, Handicare, and more, with over 30 years of experience in King of Prussia, Broomall, Drexel Hill, West Chester, Doylestown, and Plymouth areas We at Stairlift Medics continue to uphold the tradition that was established so long ago: treat people with respect, provide speedy turnaround so clients can securely access their homes, and do it at a reasonable, competitive price.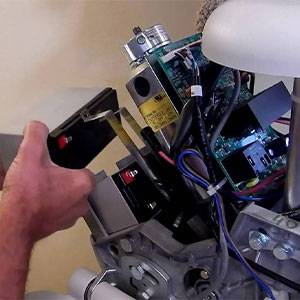 If you use a stairlift daily, you should get stairlift service regularly for the following reasons:
Because the Safety Standards recommend it
Everyone has their automobile serviced once a year to ensure that it is operating properly, safely, and in good working order. After all, it's your safety and the safety of others on the road that you're concerned about.
Engineer repairing stairlift rail to ensure it is "airworthy" 
Working parts can wear out and bolts may not be as tight as they were on the day of your installation due to natural wear and tear and usage. During a service, the seat belts, as well as the fastening to your steps, are checked and re-tightened as needed.
To ensure that the Safety Features function properly
All stairlifts are equipped with safety circuitry, which we inspect for proper operation. The carriage (the component that hooks to your rail and holds the seat) and footrest have safety edges installed.
For further information on how we may assist you in repairing or replacing your stairlift. For additional information, please contact us at 800-695-6339.