Are you thinking of purchasing a stairlift? If you have family members who have severe knee pain, backache, or ankle sprain or simply have been given mobility restrictions for cardiac arrest in the past, having a stairlift can be a great blessing. This machine will allow you to move from one floor to another without causing any stress to your injured area. But simply investing in this equipment will not help stop you will also have to maintain this machine. That is why you should also hire a stairlift service which can regularly maintain it. We, at Stairlift Medics, can be the right choice for you. We are an established and reliable company which has been in this field for more than 30 years now. We can provide you with all kinds of stairlifts from great brands like Bruno, Acorn, and Sterling. We are known for our great quality products with advanced features along with our highly efficient and dedicated services. So, if you belong to areas such as West Chester, King of Prussia, Philadelphia, Broomall, Willow Grove, or Doylestown, then you can opt for us.
Here, we have put together a few tips that will help you find the right stairlift service near you. Take a look.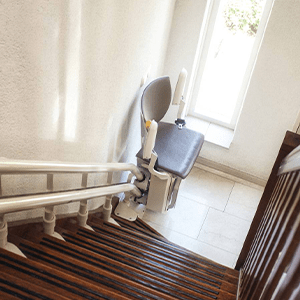 First of all, you should make sure that you ask around your friends and family for some suggestions. There must be many people who have hired this kind of service to further maintain their machine. This will help you make a more reliable choice and save you from fraud.
You can also conduct your online research to find such a company. Just be careful about going through the client reviews and ratings before making a choice. This will help you understand the kind of reputation they have in the market and will also give you an idea of the sort of products and services you can expect from them.
So, if you are interested in choosing us, contact us today.