Are you facing any kind of mobility restrictions at home? Do you have any pain, backache, ankle pain, or any other reason for which you have been restricted from moving around? These are quite common causes for which you might be facing such restrictions but apart from this, even cardiac arrests can expose you to certain situations. What you should do is invest in a good quality stairlift. We, at Stairlift Medics, can be the right choice for you. We are an established and reliable company with more than 30 years in this field. We can provide you with high-quality stairlifts from various brands and offer its installation and repair services as well. We are known for our state-of-the-art technology which enables us to provide you with the most advanced features in our machines along with our customer-oriented approach. So, whether you need a Harmar, Acorn, Bruno, or a Sterling stairlift repair, in areas like Fairfax, VA, Frederick, Annapolis, MD, Baltimore, Silver Spring, or Upper Marlboro, then you must opt for us.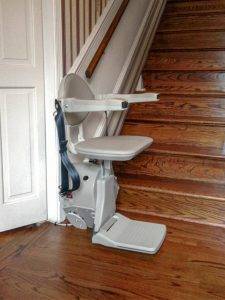 Here, we have put together a few things to check about the stand lift before buying. Take a look.
One of the first and foremost things that you need to check about the stairlift you are buying is the features you are getting. You should lookout for the most advanced features in order to get the most optimum protection and convenience. Make sure there are proper mobility as well as safety features installed in the machine.
Another thing that you need to keep in mind is the budget. You cannot exceed your budget even if it is something as important as a stairlift. That is why you should check the price in advance and see if it is affordable for you or not before making a decision.
So, if you're interested in our stairlifts, contact us now.