Stairlifts are usually built in a way that they last for decades without much trouble. However, if there arises any problems there are high chances it might just require a quick fix. Sterling stairlift repair is one of the specialties of Stairlift Medics. Our team can troubleshoot your problems with easy-to-understand diagnostic codes. If that doesn't work for you, we will be happy to send over a technician to your place to make sure your problem exists no more. Starting about 30 years ago, we have always believed in providing low cost but reliable medical equipment and exemplary services to the elderly of our country. Over the years, we have slowly expanded our clientele based on our quick turnaround, providing products at competitive prices, and treating our customers with utmost care and respect.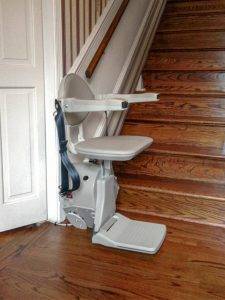 Below we have mentioned 2 common stair lift issues that our professionals can help you with. Take a look.
 The stair lift won't move
Many times the stair lift might get jammed. You can start by checking whether the master switch and the owner switch are on or not. You also have to check whether the chair is fully swiveled back to its traveling position before turning the key. If nothing works, you can call our repair guy.
 The stairlift is beeping
Other than the battery is not being charged there are quite a few numbers of reasons why your stair lift might be beeping. If your power switch has been turned on, the power hasn't tripped, and the stair lift was parked correctly after the last time it was used then you can call a professional to see the reason behind the beeping.
So, if you're looking for reliable Sterling stair lift repair personal in the regions of Frederick, Upper Marlboro, Baltimore, Damascus, MD, and Silver Spring, you can get in touch with us.