Do you have a stairlift at home?  If you or someone at home is suffering from mobility restrictions due to back pain, knee pain, or ankle sprain, then it is quite likely that you will have this machine at home. It is inconvenient to remain confined to one floor of the house and that is why a stair lift is beneficial because it allows you to move up and down the stairs. But sometimes the requirements can be temporary. In such a scenario, investing in a full blown new stairlift can be a little unnecessary. This is especially true because nowadays you can get an used stairlift for your purposes. We, at Stairlift Medics, can be the right choice for you. We are an established and reliable company which has been in this field for more than 30 years. We bring you various kinds of stair lifts and chairlifts from Reputable brands like Bruno, sterling, acorn, and so on. We are known for our great quality products along with our customer oriented approach. So, if you are located in areas like Rockville, MD, Baltimore, Gaithersburg, MD, Silver Spring, Bel Air, MD, or Upper Marlboro, then you can rely on us.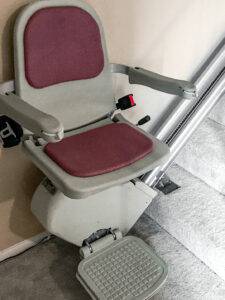 Here, we have put together a few amazing benefits of using and used stairlift. Take a look.
One of the primary benefits of this is that you will be able to save a lot of money. You do not have to pay for the original new stairlift but you can pay almost half of that when you go for a used stairlift. This saved money can be used for other home improvement solutions.
If you do not understand how a stairlift works or are a little unsure about buying it, then you can go for a used one. This will provide you with a great trial phase where you can try using it and see if it is actually benefiting you or not. If you find it comfortable and safe, only then you can buy a new one.
So, if you are interested in getting your used stairlift from us, contact us now.